Buzz surrounding Consumer Electronics Show focused on TV and gaming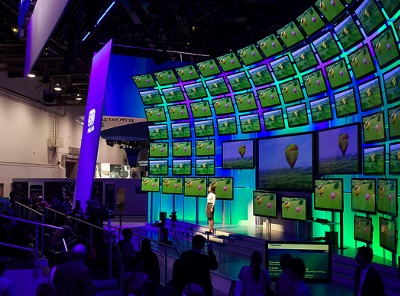 For the geeks among us, Christmas is yet to arrive. Gadget lovers and tech boffins rejoice: this Tuesday it will be game on when the Consumer Electronics Show (CES) opens in Las Vegas.
CES has been the stage from which many notable technology-related products have launched, from the VCR in 1970 to the Blu-ray Disc in 2004. So what will be the talk of CES 2012?
Nielsen and McKinsey-owned social media monitoring company, NM Incite, tracked online conversations leading up to the CES and compared 2012's buzz with 2011's to forecast what the talk of the show will be.
Most notable among their findings was a decrease in tablet buzz in this year, although tablets are still the most talked about CES topic, while TV and gaming talk is on the rise.
TV has made the steepest year-over-year gain, with buzz doubling to 21%, to almost rival tablets as the most talked about pre-show topic. Gaming-related discussion also saw significant increases in its buzz levels, doubling from 8% in 2011 to 16% in 2012.
Tablets were the only category to decline in percentage of buzz, from 31% to 23%.
NM Incite also found that one of the top trending topics over the last 90 days came when the specifications for Microsoft's next-generation Xbox leaked on November 15, spurring rumours of a possible reveal at CES 2012. Microsoft drove buzz again on December 21 when it announced that its keynote at CES 2012 will be its last opening presentation at the conference. And buzz peaked again on December 28, following LG's announcement that it will unveil its 85-inch 'ultra definition' TV at CES.
Technology research firm Ovum has also chimed in with predictions on the trends to emerge out of this year's show. The key points for marketers to take out of their predictions are:
Tablets and bring your own device (BYOD): Android-related announcements from Samsung and others mean that these products will be looking for consumer market share by targeting Apple's dominance in the tablet market. Expect to see some user interface-based approaches to having multiple personas on a single device, enabling the user to differentiate between work and personal application. More Android models, specifically those running the 'Ice Cream Sandwich' version of the operating system, as well as Samsung's Windows 8 tablets, are expected to emerge. Given that the manufacturers will target the enterprise tablet market as well as the consumer market, expect to see mobile device management capabilities and partnerships packaged up as part of the pitch,
Ultrabooks: This year at CES will see a large number of PC manufacturers fight back against Apple with 'ultrabook' form factor devices. Expect to see these mimic the form factor and features of the MacBook Air with pricing in the $600 to $700 range.
Microsoft: Specifically, Microsoft is looking to enable the enterprise market to manage and exploit the BYOD trend in its newest operating system, Windows 8, and other form factors and deployment scenarios it is considering,
Kinect: In addition to Windows 8, more may be shared about applications for Microsoft's Kinect-based gesture interface in enterprise scenarios, including retail, manufacturing and healthcare streams, following the release of the Kinect enterprise software development kit in 2011,
Media technology and the connected home: Expect to see 'ultra definition' TVs demonstrated as a potential evolution path beyond HD. Smart TV application platforms and new user interface models for electronic program guides and navigation are also likely to be demonstrated, as will media sharing over Digital Living Network Alliance. Google will also be talking up its Google TV and Android set top box deals,
Mobile digital TV: Expect to see another slew of mobile digital TV announcements, including a focus on in-car integration and the Metro PCS announcement that it will manufacture handsets capable of tuning in to live, local TV broadcasts, and
BlackBerry: It's likely RIM will be showcasing its BlackBerry Tablet OS 2.0 at CES, though it is not clear if they will also use the event to launch the Playbook 2 tablet device or announce it at a later date.
The CES is always a significant event on the technology marketing calendar, with ramifications for consumer and enterprise markets. While tablets will still be high on the agenda this year, the more innovative new announcements are expected to come in TV and gaming as talk shifts towards developments expected in these areas.
Homepage image courtesy of TechCocktail, via Flickr.