Coca-Cola redesigns packaging to reflect global 'one brand' strategy
On the back of The Coca-Cola Company's move towards a 'one brand' marketing strategy, the company has announced the launch of a new graphic scheme that uses one visual identity system featuring the brand's colour red to unify products across the range.
A red disc, which is the signature element of the 'Taste the Feeling' global campaign launched in January, will now appear prominently on packaging for all versions of Coke. Each product's own signature colour will be featured to distinguish each product – black for Zero, silver for Diet and green for Life.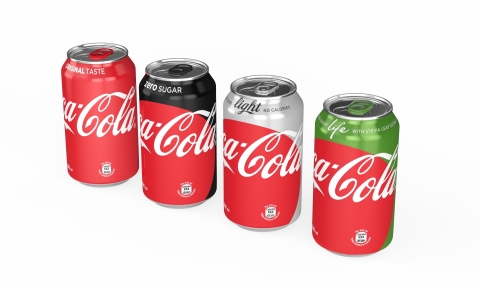 "Packaging is our most visible and valuable asset," says Marcos de Quinto, chief marketing officer of The Coca-Cola Company. "The Coca-Cola Red Disc has become a signature element of the brand, synonymous with great taste, uplift and refreshment. By applying it to our packaging in such a bold way, we are taking the next step towards full adoption of the 'one brand' strategy, uniting the Coca-Cola family under one visual identity and making it even easier for consumers to choose their Coca-Cola with or without calories, with or without caffeine."
The new packaging was revealed at an event today in Mexico, where the new packaging will be available in the first week of May. The new disc-based graphic system will roll out in additional markets throughout 2016 and into 2017.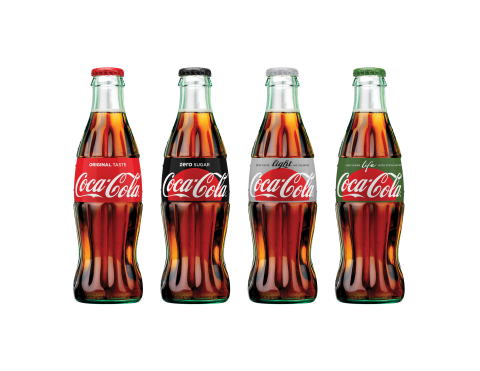 "The unification of the brands through design, marks the first time in our 130-year history that the iconic Coca-Cola visual identity has been shared across products in such a prominent way," says James Sommerville, vice president of global design. "When applied across packaging, retail, equipment and experiential, this new approach becomes a global design language that utilises a historical brand icon to present the range of Coca-Cola products available today in a contemporary and simple way."
Sommerville says that the use of the red disc goes back to the 1930s, when it was first introduced on hand-painted Coca-Cola advertising. "Over the years, it became synonymous with great taste, uplift and refreshment," he says in an interview on the company's website. "In 1947, the creative director at D'Arcy Advertising, Archie Lee, purified and systemised the Red Disc used then for retail signage to signify that real Coca-Cola was sold there. The disc, therefore, became the inspiration for our approach to the 'Taste the Feeling' campaign signature that we introduced in January, and now these new packaging designs also communicate that Coca-Cola, any Coca-Cola is the real thing."