Every single spot from NFL Super Bowl XLVIII (they're more impressive than the game)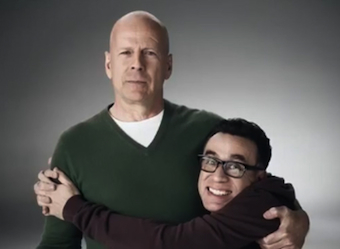 It's the most watched American broadcast of the year, and though this year's Super Bowl game itself wasn't all that impressive, the Seattle Seahawks beat the Denver Broncos 43-8, the real-time marketing explosion sparked by Oreo last year resulted in a lot of anticipation and a whole lot of dull noise from wannabes, the ads certainly didn't let us down.
Some ads have caused controversy, others have made grown men cry and they all cost far too much money. Below is every single spot that broadcast during the NFL Super Bowl XLVIII. Partly for prosperity, and partly because, well, we can.
Best? Worst? You'll have to watch them all to decide.
Doritos 'Cowboy Kid'
GoDaddy 'Bodybuilders'
http://youtu.be/WycoJMKzXZ4
Budweiser 'Puppy Love'
http://youtu.be/uQB7QRyF4p4
SodaStream 'Scarlett'
http://youtu.be/zxq4ziu-wrI
T-Mobile 'Kill Your Contract'
http://youtu.be/LaN3PnPfzCU
Dannon Oikos 'The Spill'
http://youtu.be/DrcaeAumAZo
Jaguar 'Rendezvous'
http://youtu.be/2Bls1KKDwmo
Hyundai 'Nice'
http://youtu.be/yWiPEe-RiCM
Microsoft 'Empowering'
http://youtu.be/qaOvHKG0Tio
Butterfinger Cups 'Therapy'
http://youtu.be/C2fe8iS6v6g
Coca-Cola 'Going All the Way'
http://youtu.be/QKi2wjELK6A
Chrysler 'America's Import'
http://youtu.be/KlSn8Isv-3M
Honda '#hugfest '
http://youtu.be/PQi9cBFm4pE
Budweiser 'Hero's Welcome'
http://youtu.be/K7L5QByvXOQ
Heinz Ketchup 'Hum'
http://youtu.be/AbSxofjPVCg
Kia 'The Truth'
http://youtu.be/Ob-wn52Dkmk
Chobani 'Bear'
http://youtu.be/ABxP3t7XP3g
Axe 'Make Love. Not War'
http://youtu.be/63b4O_2HCYM
GoldieBlox 'Come On Bring the Toys'
http://youtu.be/WnqLgbKKUjw
T-Mobile 'Still No Contract'
http://youtu.be/ItbUe2QZ2CQ
Audi 'Doberhuahua'
http://youtu.be/zl0zw1YVZd4
Jeep 'Restless'
http://youtu.be/mHg9XSyd8Fo
H&M 'Campaign Film'
http://youtu.be/nYnWGPDF9kI
Sonos 'Face Off'
http://youtu.be/xDboX4JOGkY
Bud Light 'Epic Night (2)'
http://youtu.be/gKKVQLDYYcw
Subway 'It's Crunch Time'
http://youtu.be/K2dy0U5simU
Toyota 'Joyride'
http://youtu.be/N5A3R4XqhOA
Coca-Cola 'It's Beautiful'
http://youtu.be/443Vy3I0gJs
M&M's 'Delivery'
http://youtu.be/q3Z4TQKGXbE
CarMax 'Slow Clap'
http://youtu.be/URgQdz7qd8A
Wonderful Pistachios 'Stephen Colbert'
http://youtu.be/7MErkYH-FNo
Volkswagen 'Wings'
http://youtu.be/ns-p0BdUB5o
WeatherTech 'You Can't Do That'
http://youtu.be/7wTJwiPWb6I
T-Mobile 'No Contract, No Worries'
http://youtu.be/tyK2UG334C8
GoDaddy 'Puppet Master'
http://youtu.be/gf0vzLgF-OI
Chevrolet 'Life'
http://youtu.be/7vhMpXMPvdU
RadioShack 'The Phone Call'
http://youtu.be/9ft9ruGTO1w
Squarespace 'A Better Web Awaits'
http://youtu.be/S0Or1f_RxKQ
Cheerios 'Gracie'
http://youtu.be/LKuQrKeGe6g
Hyundai 'Dad's Sixth Sense'
http://youtu.be/RGr9t5Wfrv0
Beats Music 'Goldilocks'
http://youtu.be/i_eiTQy1QZw
TurboTax 'Prom'
http://youtu.be/2EHujuY9q-E
Chevrolet Silverado 'Romance'
http://youtu.be/dOMrA-BGuLY
Doritos 'Time Machine'
Maserati 'Strike'
http://youtu.be/KmpiwU50f5w