Fivex Art Prize joint winners revealed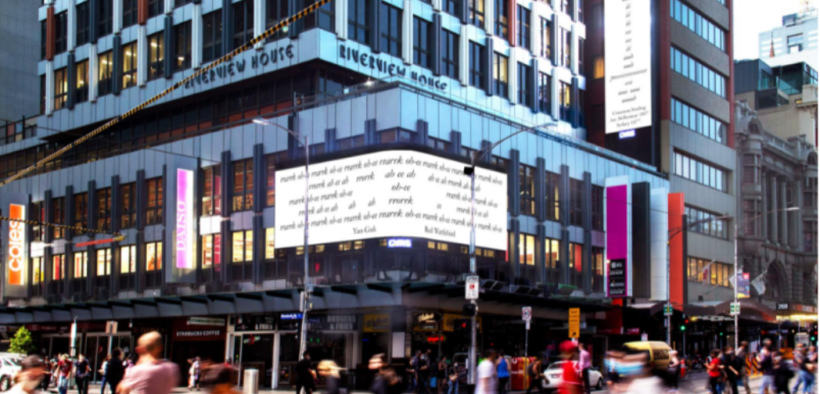 The winners of the inaugural Fivex Art Prize – Australia's first award focused on billboard art – have now been revealed.
Out of a prestigious group of six shortlisted artists, Catherine Clover and Daniel Kotsimbos, who are both Melbourne-based, will share the $30,000 prize, taking home $15,000 each. The results were announced by Lord Mayor Sally Capp, and Clover and Kotsimbos will have their pieces, Song Cycle and Peak Frequency respectively, displayed on large LED billboards (one wraparound and one vertical) at the corner of Elizabeth and Flinders Streets opposite the railway station until the end of January 2021.
"The Fivex Art Prize: Billboard Art Reimagined is an innovative addition to our city's rich creative heritage," said Capp at the announcement. "Showcasing the best digital art from across the country on a prominent CBD billboard is another reason to come into the city to enjoy what's on offer."
The prize jury included Jane Devery (curator, Contemporary Art, National Gallery of Victoria), Liss Fenwick (public art project lead, Melbourne City Council), Gary Deirmendjian (artist), Charmaine Moldrich (CEO, Outdoor Media Association) and Alessio Cavallaro (creative producer, Fivex Art Prize and media art curator).
Catherine Clover's Song Cycle (pictured at top) centres on the phonetic words used by bird field guides to approximate the bird songs of the Indigenous red wattlebird and the introduced common starling, both local to Melbourne's CBD. The red wattlebird's scratchy raucous song is rendered for the horizontal billboard using the rhythm and metre of an early morning exchange, which includes two slightly varied groups of three notes, repeated. The complex song of the common starling, which includes a long dropping melodic note fills the vertical billboard.
Daniel Kotsimbos' Peak Frequency (pictured below) presents a visualisation of the sonic patterns recorded at Melbourne Square Crossing to reflect on the public space and routine foundations of our public lives. Made from a site-specific audio recording, the artwork is a spectrogram of the billboards' location. The spectrogram on the wraparound billboard shows time represented horizontally on the x-axis, and sonic frequency on the vertical y-axis. A colour key indicating decibel intensity is shown on the vertical billboard.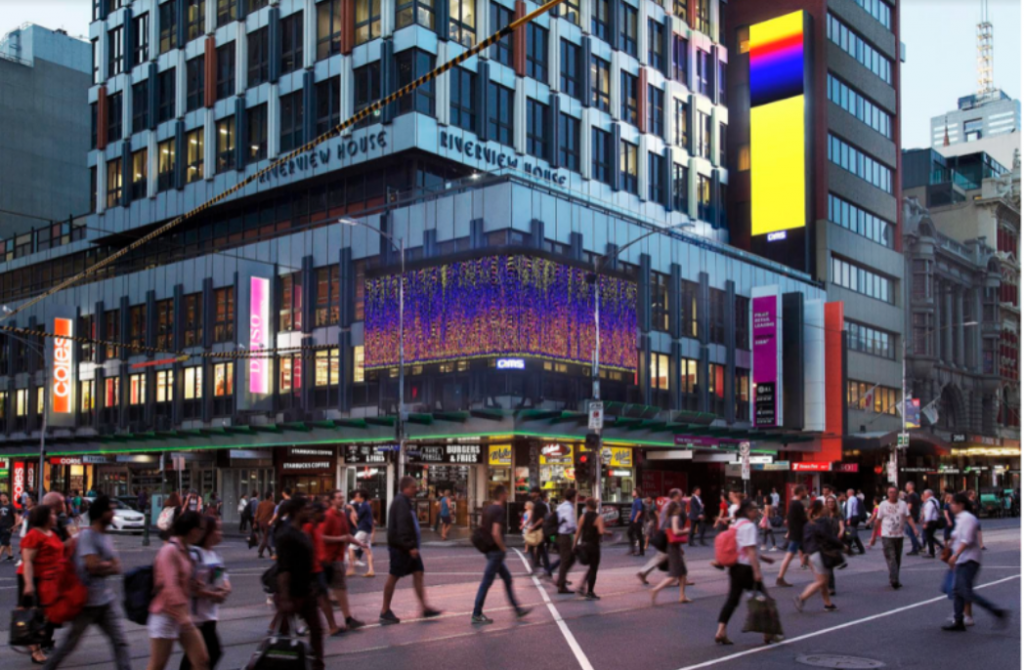 The other shortlisted artists will each receive $1000 and their entries will join those of the winning duo on display at intervals throughout the day, alternating with advertising content.
On weekends, between 12 noon and 1pm, and starting on on Saturday 19 and Sunday 20 December, all six pieces will be displayed in one-hour, no advertising, group screenings.
The billboards belong to QMS media Group and its CEO, Barclay Nettlefold, says the competition is "a significant new art award that promotes new forms of bold, memorable street art for today's digital age. Both of the winning works push the boundaries of what we expect from street art and billboards alike and QMS is proud to showcase their work on such a powerful digital canvas, right in the heart of Melbourne."