Grab a slab for a dab of solar power with Solar Exchange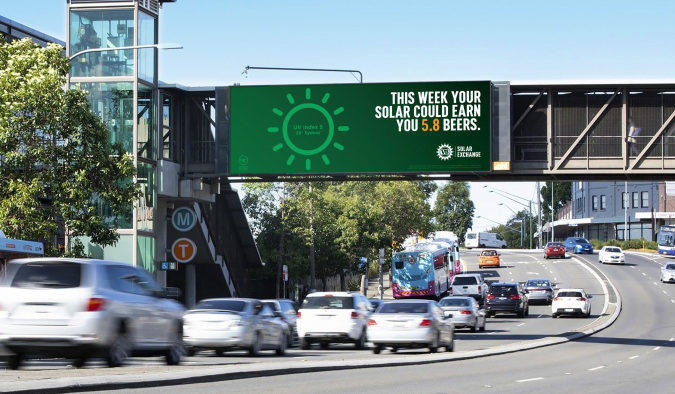 The VB Solar Exchange is a new program enabling beer lovers to trade their supply of solar energy for slabs of Victoria Bitter. This campaign was launched by Victoria Bitter and Clemenger BBDO Melbourne. 
The Solar Exchange Program allows those involved to exchange credit on their power bill for a slab of VB. The credit is obtained by generating excess solar energy. For every $30 of credit, participants can get those 30 stubbies of VB.
The campaign is national and it rolled out with a TVC and an animation that explains the program to the tune of VB's iconic soundtrack. The effort also includes a dynamic OOH that displays how much beer Asutralians could be earning based on the weather in each state.
Solar Exchange has been developed in partnership with the 5-star rated energy retailer, Diamond Energy, and Power Ledger, a blockchain-powered software platform that facilitates the Solar Exchange. VB will receive the solar credits it obtains under the exchange from Diamond Energy and re-invest them back into the program or towards the business' broader sustainability goals.
Asahi Beverages, a parent company to VB's manufacturer CUB brewery, has a longstanding sustainability policy. They are committed to delivering products that are made from sustainably sourced materials and they have a developed environmental plan that considers climate, water and waste management.
To apply for the program, energy consumers with solar excess, need to switch their electricity retailer to Diamond Energy, and agree to the VB Solar Exchange terms and conditions.
Those who sign into the program can track how much beer they've earned based on how many solar energy credits they exchanged with VB.
Clemenger BBDO Melbourne executive creative director, Jim Curtis, says, "I couldn't be more proud to see one of Australia's most iconic brands leading the way and showing the rest of the world an innovative economic model between brands and consumers."
Brian Phan, general manager marketing Victoria Bitter, comments, "Last year we put the Australian sun to work and started brewing VB with 100% offset solar energy. Now we've launched this program to thank those who have made the effort to go solar with some hard-earned VB."
"There are currently limited spots available. While we want to have more people exchanging solar credit for beer down the track, for now any beer lover who wants to participate should sign-up quickly."
The program is available to residential householders only who are aged over 18.