Illegal door-to-door selling: Federal Court fines Origin Energy $2 million and SalesForce $325,000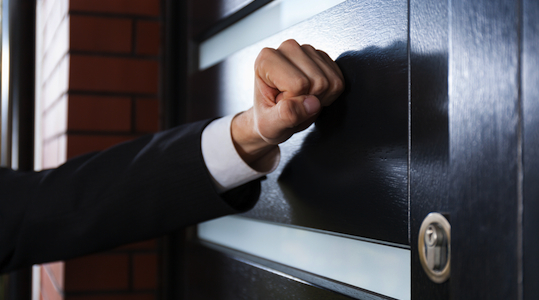 The Federal Court has fined Origin Energy $2 million and SalesForce Australia Pty Ltd (the Salmat subsidiary; not to be confused with American cloud computing company Salesforce Inc) $325,000, finding the utility provider and its marketing company guilty of unlawful door-to-door selling practices, unconscionable conduct, undue harassment or coercion, false or misleading representations and breaches of the unsolicited consumer agreement provisions of the Australian Consumer Law.
ACCC chairman Rod Sims says these penalties are the highest of their kind to ever be handed to an energy retailer and its marketing company for illegal door-to-door behaviour.
Justice Anna Katzmann stated in her judgement that the companies' sales representatives had "preyed on the vulnerable and the ill-informed" while trying to negotiate electricity contracts with Origin. The victims included ten customers from New South Wales, Victoria, Queensland and South Australia.
The court found two instances of sales reps' behaviour to constitute unconscionable conduct:
A sales rep continued to negotiate with a native Tamil-speaking customer who had advised of a difficulty understanding English, prompting the customer to answer 'yes' on a phone call to confirm an electricity contract with Origin.
A sales rep continued to negotiate with a customer despite being told she was not the authorised account holder and uninterested in changing electricity retailers. The rep also showed undue harassment or coercion over the phone by instructing the customer to falsely state that her husband had signed an agreement to join Origin.
"In each case the sales representative practised deceptions on the consumers in order to secure their custom," Justice Katzmann said.
Origin and Salesforce's sales representatives also made false or misleading representations in breach of the ACL that:
There was a mistake on the consumer's electricity bill issued by their current electricity supplier,
the consumer had to change to Origin because of changes implemented by the government,
the consumer would not be charged an exit fee if he changed his electricity supplier to Origin,
the sales representative was part of a government-commissioned study investigating complaints about the cost of energy, and
the consumer was signing an expression of interest and would not change her electricity retailer unless she contacted Origin.
The companies also breached unsolicited consumer agreement provisions by:
Failing to clearly advise consumers that the purpose of their visit was to seek the consumer's agreement to enter into an electricity contract with Origin,
failing to leave the premises immediately on the request of the consumer, including one instance where the consumer had a 'do not knock' sticker displayed,
calling on consumers outside permitted hours, and
failing to inform consumers in writing of their right to terminate their contract within the cooling-off period.
The companies were ordered to jointly publish a corrective newspaper notice, maintain compliance programs and contribute to the ACCC's costs.
Origin's fines exceed any previously handed down to utility providers for inappropriate door-to-door marketing activities, including:
EnergyAustralia – fined $1.2 million in April 2014,
AGL Sales and AGL South Australia – jointly fined $1.555 million in May 2013, and
Australian Power and Gas – fined $1.1 million in November 2013.