Internet goes dark in protest against anti-piracy laws
High-profile web and technology organisations including Google and Wikipedia have gone ahead with planned protests against the Stop Online Piracy Act (SOPA), despite diminishing support for the Bill, which would restrict piracy but also render any site using links practically inoperable.
The English language Wikipedia blacked out this afternoon (AEDT) in a global protest against SOPA and the Protect IP Act (PIPA).
The fight to stop piracy, backed by American entertainment and media interests, took a hit over the weekend with several US congressman withdrawing support for the Bill and a statement from the White House suggesting that it would not support several cornerstone provisions of both SOPA and PIPA.
"While we believe that online piracy by foreign websites is a serious problem that requires a serious legislative response, we will not support legislation that reduces freedom of expression, increases cybersecurity risk or undermines the dynamic, innovative global internet," the statement reads.
While this is good news for Silicon Valley, the battle still has a long way to go with a vote on PIPA scheduled for 24 January.
Organisations will continue with planned protests, including outages of up to 24 hours, in a bid to enlist the masses to their cause.
According to Mashable, sites confirmed to be 'going dark', to show people how their everyday lives could be affected by the bills, include Wikipedia, WordPress.org, Reddit, TwitPic and Mozilla.
Others confirmed to be taking part in protests of one form or another include: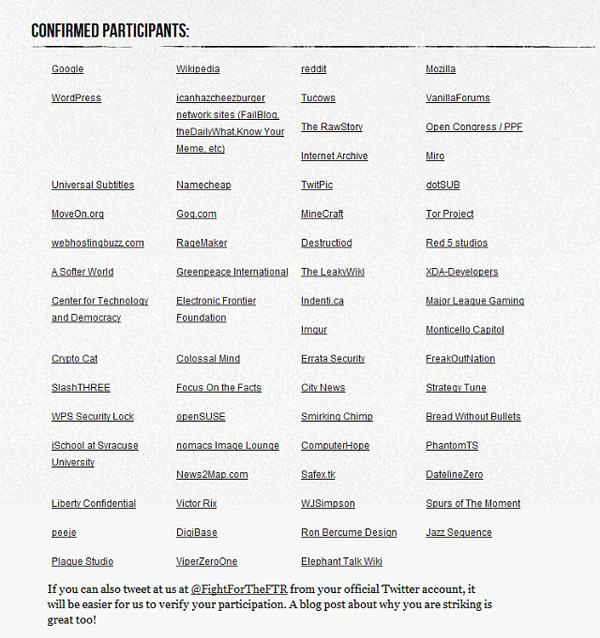 Source: Mashable.
More are also rumoured to be participating by protest coordinator site SOPA Strike.com.
Google has confirmed it will post a message on its home page instead of going dark.
If passed, the two bills would prevent American search engines from directing users to sites distributing stolen materials and allow people and companies to sue for copyright.
The Obama administration's move against the bills angered media mogul Rupert Murdoch who took to Twitter, attacking the government and Google over the issue.
"So Obama has thrown in his lot with Silicon Valley paymasters who threaten all software creators with piracy. Plain thievery," Murdoch tweeted .
Murdoch also accused Google of hosting pirated material and selling advertising against it, tweeting: "Piracy leader is Google who streams movies free, sells [advertisements] around them. No wonder pouring millions into lobbying."
Google dismissed his claims as 'nonsense'.