Juice brand Nudie expands into lunchboxes, kids market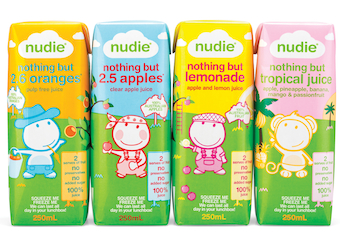 Juice company Nudie will launch a new product aimed at children, with the launch of the 'Kids Nudie' range.
Sydney-based agency, Jack Watts Currie (JWC), created Nudie 10 years ago and have worked on the new brand's packaging. The packaging design will includes games, jokes and activities for the kids.
JWC creative director, Colin Watts says, "Nudie packaging has always been seen as a canvas for a bit of fun interaction, as a big kid myself it was about games, trivia, and having to find the hidden nudie creatures! Getting kids to share this fun in the playground will help to positively spread the brand."
Former Australian netball star, Liz Ellis has been brought in as the new product's ambassador along with a 'Nudie blender challenge' roadshow involving a giant inflatable blender and product sampling. The campaign will also feature a Facebook promotion for mums, and a website aimed at children.
James Ajaka, CEO of Nudie, says, "At Nudie we're always striving to bring innovative products to the market, that are made from the best ingredients we can find. We are really excited to finally offer parents a 'Kids Nudie' range; made with nothing but fruit, with two serves of fruit and no added sugar or preservatives. Three of the flavours are made from 100% Australian fruit, which we are really proud of."