KFC Australia turns green and gold in support of Aussie cricket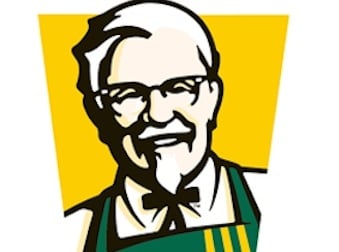 KFC will be changing their red and white logo colours in favour of green and gold for the 2013/2014 cricket season as part of their sponsorship with Cricket Australia.
The green and gold rebranding will be seen across the decor of five flagship restaurants with a  further 600 stores to also take part by rebranding 25,000 uniforms and over 300,000 buckets using the Australian team colours.
This morning saw George Bailey and Chris Rogers, members of the Australian Cricket Team, battling English cricketing legends, Graham Gooch and Sam Billings, in the drive-thru at the KFC Clayfield Qld restaurant as part of the launch event.
"The Ashes ignites a fierce rivalry between England and Australia. We have thousands of Barmy Army fans descending on our shores for the second time this year, and as a proud and long-standing partner of Australian cricket we wanted to create a campaign that would ignite national pride and celebrate this great occasion," says KFC's acting chief marketing officer, Valerie Kubizniak.
PR, TVCs, media partnerships, experiential and social media will also be utilised, as well as the launch of the Green & Gold SkyBox at the Ashes; a KFC restaurant that will elevate guests above the Sydney Cricket Ground.
Cricket Australia's CEO, James Sutherland says,"We're thrilled to have KFC continue its partnership with Cricket Australia this season and we're excited to see the launch of its Green & Gold campaign, which will no doubt further stimulate an energetic rivalry between Aussies and the Barmy Army, as well as encourage fan engagement crucial to cricket's future success in Australia."