Kleenex 'Pin to Make a Difference'
Campaign: Pin to Make a Difference
Client: Kimberly-Clark Australia
Agency: Social@OIgilvy and Pulse Communications
Background
Despite Kleenex Cottonelle's leading sustainability credentials – it is the first toilet tissue in Australia to gain Forest Stewardship Council (FSC) accreditation and Australia's only toilet tissue brand endorsed by the WWF – its sustainability story wasn't gaining cut-through with consumers.
While the brand's multimillion-dollar 'Love Your Forests' TV advertising burst was gaining awareness, its sustainability message was too remote among target mums who couldn't see a compelling reason to pay more for a household basic in an uninteresting product category.
The solution was clear: engagement. But how to achieve it for a brand in a low-interest category, on a low budget, and within the niche (and arguably unfashionable) cause of everyday household sustainability?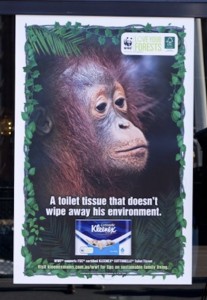 Objectives
The team was briefed to drive high-impact awareness and talkability among Australian mums around Kleenex Cottonelle's FSC accreditation and show how, as a premium and environmentally responsible toilet paper, Kleenex Cottonelle was worth investing in.
Essentially, we were tasked to dial up the brand values of 'environmentally friendly', while giving mums a compelling reason to believe in the premium credentials of the product beyond price.
The success metrics required by the client was a campaign to reach one million Australian mums.
Strategy
If the brand's FSC accreditation, in addition to the product's efficacy, was a reason to believe, then the existing 'Love Your Forests' ATL burst wasn't enough to make it stick. Our qualitative planning research showed that while the sustainability message certainly had impact for three quarters of target mums, the pressures of modern family life took precedence, and that ignorance and a lack of inclination often prevailed.
From our planning process we understood that in order to be successful, our campaign with a cause needed to:
inspire,
educate,
make it easy for mums to get involved (and reward them for their involvement), and
create a direct and impactful dialogue with the audience.
We also needed to demonstrate an emotional value proposition – by making the campaign speak directly to mums in their own language and involving them, we could show them the returns on inspiration that sustainability can bring through their own everyday choices.
Our solution was clear: by creating a virtue of the territory of 'making a difference' – easily and every day in the home – and taking brand ownership of it, we could make mums feel good about social good, thus creating a halo for Kleenex Cottonelle. Showing mums how small steps for a big impact really was as easy and simple as changing the everyday choices you make, such as buying sustainable products, like Kleenex Cottonelle, in the weekly shop.
So, we invited mums to make a difference – easily, every day, and with Kleenex Cottonelle. Our early research showed that helping others is the number one reason Australians chat online about household goods, and that 'new kid on the block', Pinterest, was fuelling phenomenal growth in home-interest conversations. Not only that, but Pinterest was also Australia's fastest-growing social network (+194% in six months since December 2011) among women, of which 62% of users were female with an average age of 30. In its ability to reach women who care about home-interest issues, Pinterest was an obvious choice to spread our sustainability message loud and wide.
With that, the Kleenex Cottonelle 'Pin to Make a Difference' campaign was born.
Execution
Our campaign took a three-phase approach:
1. Recruiting mums and starting the sustainability conversations,
2. involving mums by bringing them together at an Australian-first brand event, and
3. rewarding mums for their involvement through micro-contests post event.
Phase one: starting the conversations
The campaign centred around a branded 'Pin to Make a Difference' event in central Sydney, inviting Australia's most influential mum bloggers and media to network, pin and share their 'make a difference' sustainability tips, and take part in Australia's first and fastest pinning competition.
We created a branded Pinterest account, analysed Australia's most influential mum bloggers, and targeted them to attend the event. A media announcement followed, seeding anticipation and outreach, and creating a groundswell of support, with media applauding Kleenex Cottonelle for its leadership with Pinterest, and for driving an 'Aussie first'.
Bespoke, independent research into Australian mums' sustainable habits and behaviours in and around the home, created branded talking points and started the conversations in both traditional and social media.
We also engaged primetime TV presenter and Channel 7 breakfast show anchor, Mel Doyle, and one of Australia's most influential bloggers, Darren Rowse, to MC and present at the event. Both ambassadors had influential, active social and traditional media and business networks, and news of the event gained momentum quickly, which was then seeded by influential media attendees.
Phase two: involving mums through the event
We staged the event on 2 May 2012, with 26 of Australia's most influential mum bloggers and mainstream media attending. Guest speakers from Kleenex Cottonelle, the WWF and the FSC inspired the 'make a difference' conversations, reaching two million people and fuelling 1.2 million Twitter impressions. Powerful social currency amplified the conversations, from the specially created 'Pin to Make a Difference' social badge, to the event hashtag #pin4good, leading to the event trending at number one on Twitter, ahead of TV's The Voice, the most popular TV show in Australian TV history. The event fuelled traffic and content at the Kleenex Cottonelle Pinterest account, with an average of 200 followers per pin board.
Phase three: rewarding mums for their involvement
Post-event we maintained the momentum of the sustainability conversations by placing micro-contests on target mum blogs, who cascaded the message through their networks, giving their communities a Kleenex Cottonelle 'Make a Difference' goody pack. The activity reached 20,000 people in mum blogger communities. This, combined with ongoing mainstream outreach from our bespoke brand research showing that nine in 10 Australian mums support in-the-home sustainability but time, pressure and modern technology not money are their biggest barriers, drove continued outreach and impact, keeping the boards alive.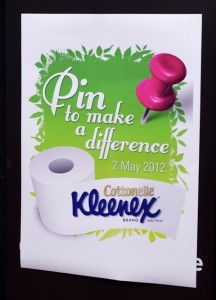 Results
Results were based on coverage and search analysis of campaign mentions from 4 April 2012 up to and including 28 May 2012. The campaign significantly exceeded the KPIs and client expectations by achieving:
An overall reach in excess of 5 million Australians within all targeted mum media channels, with a +1,100% increase of conversations in Australia about sustainability in and around the home,
sustainability mentions reached 1.2 million people; tweets about the FSC and its accreditation during the campaign reached 7727 people; WWF tweets during the campaign reached 314,744 people,
100% positive campaign sentiment across traditional and social media channels including Pinterest, Twitter, Facebook and blogs,
a 475% increase in social conversations about Kimberly-Clark (from three months prior),
33 pieces of branded coverage about the campaign, coupled with a Twitter reach of 1.2 million Australians; and including #1 trending on Twitter in Australia, and
the campaign reinforced Kleenex Cottonelle's market-leading positioning, with the brand lauded as a top 10 brand using Pinterest (Marketing magazine) and one of the 'Eight Australian Brands to Watch on Pinterest' (the Village Agency).
Overall, the campaign succeeded in making the brand relevant and meaningful to mums by telling the biggest and most high-impact sustainability-in-the-home story of the year, positioning itself as a pioneering leader and brand champion of everyday 'social good' and easy, everyday sustainability in the home.