News Corp campaign asks 'Do you know where your ad is today?' amid programmatic media buying controversies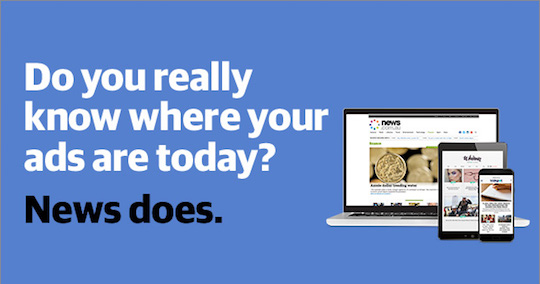 News Corp is launching a four-week trade campaign offering brand safety and transparency to advertisers on its platforms.
After current transparency issues surrounding brands, programmatic advertising and agencies, News Corp has launched a campaign asking brands and marketers 'Do you know where your ad is today?'
The campaign hopes to remind advertisers that its products are "some of the most trusted digital environments within which they can advertise," says a release.
Nicole Sheffield, chief digital officer at News Corp says "there has been a lot of discussion and coverage on media transparency over recent months and we want to take a proactive stance on these issues by launching this campaign to showcase our strengths and commitment to providing accountable, effective solutions for advertisers."
Earlier this year, executives from big global brands began calling for greater transparency from agencies around media buying and programmatic ad spend. A notable example was a keynote from P&G chief brand officer Marc Pritchard.
More recently, brands have been pulling advertising from YouTube after finding their ads posted alongside videos of violent or offensive content. The boycott has been forecast to cost the online video giant US$7.5 billion in lost ad revenue.
Last year's fake news controversies also played a major role in creating the current climate of mistrust among brands, about just where their ads are ending up.
"We're launching this national advertising campaign with a view to reassuring our customers that protecting and enhancing their brands is our number one priority," says Sheffield.
"The reality is that advertisers have the right to know where their media budget is going and News will supply them with that as they were promised."
The trade-focused campaign will appear across AdNews, Mumbrella, B&T, Media i, Media Week and The Australian's Monday media section for the next four weeks.