Marketing recruitment and remuneration set to increase
The latest job advertisement and employer hiring expectations reveal a buoyant end to 2015 for marketing and communications professionals as Australian businesses respond to the challenges of a post-mining economy and more competitive product and labour markets.
A recently released survey by professional recruitment firm Robert Walters reveals that 39% of marketing hiring managers are set to boost the size of their marketing department before the end of 2015, while only 15% are expecting to downsize.
According to Robert Walters manager Oliver Smith, most of this increase in marketing hires is focused on mid-level and senior professionals. With attention to retention of existing marketing staff in a strong hiring market, hiring managers also reported that pay rises are on the horizon for nearly half of all marketing employees. Very few reported intentions downsize payrolls.
"The value of effective marketing is intrinsic to a successful business; where it positions itself, how it communicates with its audiences and the ways in which key brand values are reflected in its product or service offering," Smith says.
"Climbing marketing headcount indicates that organisations are anticipating a positive economic environment, investing in new skill sets to help sell an effective message to customers."
Seek's latest employment data shows that the Australian job market has enjoyed 24 consecutive months of growth, and confirms that marketing and communications is one of the fields experiencing strongest jobs growth.
Managing director of employment at Seek Michael Ilczynski says that within the growth in marketing and communications hirings, three roles in particular stand out: internal marketing, brand management and digital related roles.
"Industries like marketing and communications are performing strongly with jobs in internal communications leading the pack with a 41% increase this month, while brand managers were also in demand (up 34%)," says Ilczynski.
"Naturally digital and search marketing continues to steadily grow as we spend more and more time online."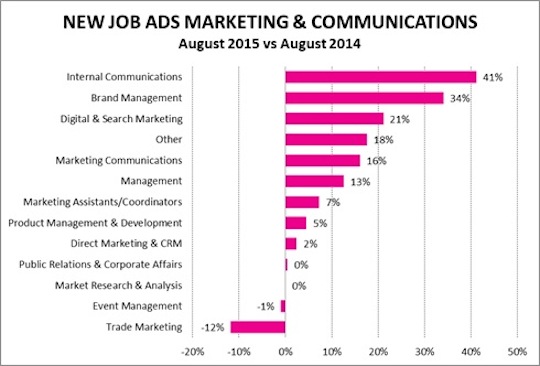 David Khadi, regional director of Michael Page Marketing, explains the spike in certain marketing and communications roles as the result of greater competition resulting in greater strategic emphasis on retention, both for employees and for customers, and because some industries need to catch up with the digital performances of their international counterparts.
"With an increase in jobs, comes an increase in demand and competition for the best candidates in the market. Employee engagement and empowerment has been a key focus and, because of this, many companies are bringing on internal communication specialists to really drive employee engagement initiatives. Furthermore, the ever-increasing competitive landscape for consumers is ensuring brand loyalty and retention is key, hence the increase in brand management roles."
"There is also no doubt that digital-based roles will increase year-on-year for the foreseeable future. All companies need to have a digital presence and even with some industries lagging behind their international counterparts on this, they are making up for lost time. It's one of the strongest areas in which we have seen growth over the last few years and will continue to be a focus for companies."
But Seek's Michael Ilczynski notes that while the general employment direction for the nation is positive, the growth in hiring is not uniform across the nation. The Seek data shows strongest growth in the Australian Capital Territory (up 30%), followed by New South Wales (21%), Tasmania (17%) and Victoria (12%), while mining-dependent Western Australia is in decline (down 12%) and employment is also softening in the Northern Territory (down 3%).  South Australia (also down 3%) is also experiencing softening in marketing jobs due to depressed manufacturing, while Queensland, despite its significant exposure to mining, is experiencing a 6% jobs rise overall, due to its more mixed economy, including significant tourism, agricultural and services sectors.