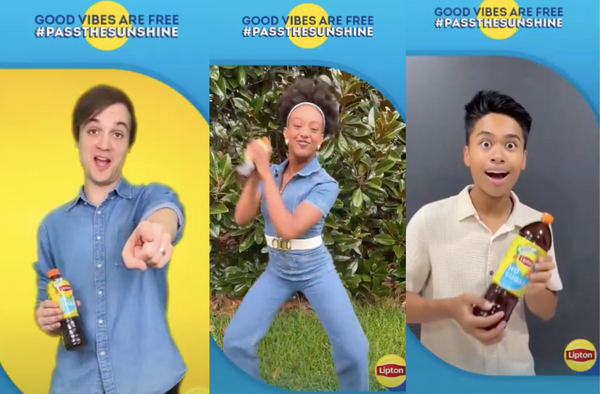 Lipton Ice Tea has announced its biggest creator-led campaign, connecting with influencers using the hashtag #PassTheSunshine. 
The beverage giant is asking Melburnians to celebrate summer by sharing acts of kindness – and generating brand awareness. 
In a fun collaboration with global influencer agency, Billion Dollar Boy, the campaign was fuelled by research that shows helping others can be good for mental health. In an effort to reduce stress, and improve emotional and physical well-being, the #PassTheSunshine campaign is encouraging Melburnians to take a stance and show random acts of kindness – for the benefit of their health!
The campaign features TikTok stars like Matt Storer, who is known for his comedic parodies and musical skits. Storer, alongside other creators, features on a high-resolution, 28-metre digital billboard in Bourke Street Mall, proudly known for its eclectic busking community.
The billboard shows Storer performing his one-minute long original song, 'Pass The Sunshine', with lyrics appearing as subtitles. 
The campaign names Melbourne as one of the 'friendliest city in the world' and encourages people to live up to this 'street cred'.
Other media personalities in the campaign include Nathan Lust and Angelo Marasigan, Ginger and Carman, comedic creator, Jimmy Jan, and Wiggle favourite, Tsehay Hawkins. 
The activation will encourage social media users to duet or remix TikTok performances of 'Pass The Sunshine' with the aim to encourage audiences to create unique and fun versions of the song and spread the campaign message. Successful creatives will have the opportunity to feature on the digital billboard on Bourke Street.
The company is also hosting an in-person pop-up at Bourke Street from the 22 to 23 February. Visitors will be offered free samples of Lipton Ice Tea 'No sugar' and the opportunity to act like movie stars, as a production crew will be there on site filming.
Pepsi Lipton's global chief marketing officer, April Adams-Redmon, explains her excitement about this activation.
"At Lipton Ice Tea, we believe that happiness can be found in small, everyday moments in life. Lipton Ice Tea is all about being that perfect refreshment to uplift these moments, especially when enjoyed with others," she says.
Adams-Redmon continues, "The #PassTheSunshine message perfectly captures those moments of joy we'd love our consumers to share in and pass onto others. We are proud to launch our biggest ever creator campaign in Australia, on the nation's largest digital billboard, and with no other than some of the country's most popular and creative influencers to spread the sunshine!"
How did Matt Storer use his magic? 
Matt Storer was the mastermind behind the billboard's jingle.
"I like to think I could write a catchy tune about anything, but didn't quite expect to be writing one about Ice Tea," says Storer.
"It was a unique and rewarding challenge and I think we nailed exactly what we were aiming for. It's still happily stuck in my head, and I had to listen to it more than anyone else, so that's saying something."