APN Outdoor's three key themes from Cannes Lens 2018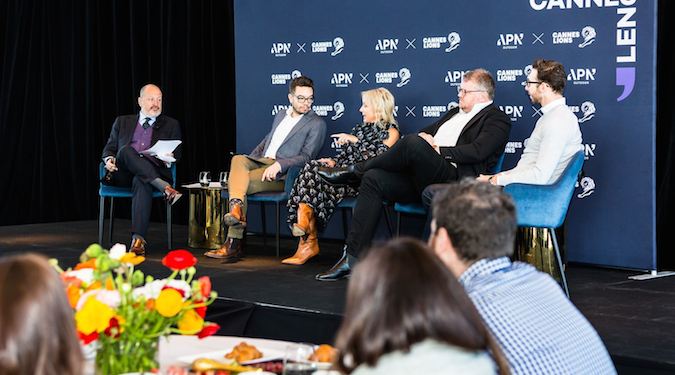 APN Outdoor has identified three key themes it found dominating at this year's Cannes Lions International Festival of Creativity.
"These themes are shaping how our industry approaches its work and are keeping many marketing, advertising and media professionals awake at night," says APN Outdoor marketing GM Charlotte Valente.
The themes were outlined by Valente at APN's Cannes Lens: Creativity In Focus presentations in Melbourne and Sydney this week – coming to Brisbane, Adelaide and Perth next month.
APN's three key themes of marketing in 2018:
The importance of finding and communicating what is authentic to a brand and, in many cases, using that authenticity to develop a "higher purpose"

increasing conversations around inclusion and equality, and

finding the elusive balance between data and creativity.
"Cannes brought these issues into sharp focus and showcased some brilliant insights into how to tackle these opportunities and turn them into highly effective and engaging campaigns," Valente continues.
"APN Outdoor's association with Cannes is part of our commitment to creating opportunities for brands to have deeper, smarter and more meaningful connections with consumers"
The Cannes presentations, moderated by PwC chief creative officer and partner Russel Howcroft, saw a panel of leading industry executives discussing some of the most acclaimed work at this year's festival.
"While I couldn't be in Cannes myself this year, it is fantastic to hear from our panels that there was a shift back to what is really important: the celebration of great, creative ideas," says Howcroft.
"It has been a privilege to be able to sit down with our panel and get a deeper understanding of this year's award-winning work."
The Melbourne panel included CEO of Tribe, Anthony Svirskis; MD of UM Melbourne, Gareth Nicholls; and incoming head of marketing at Cricket Australia, Natalie Davey.
The Sydney panel included innovations director at The Monkeys, Jay Morgan; senior copywriter at Leo Burnett, Karen Ferry; and CMO at 20th Century Fox, Sue Zerk.
Further Reading: