Australian government starts a $23.9 million campaign for the COVID-19 vaccine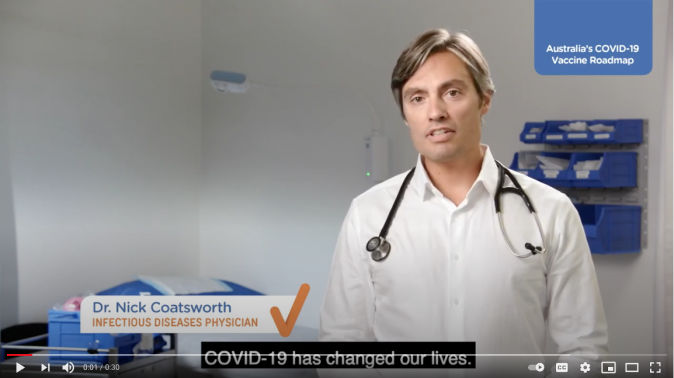 The public health campaign launches across a variety of mediums, including television, radio, press, digital, social, mobile, search and out of home. It is designed to keep Australians fully informed about the vaccine and when, how and where to get the jab.
This launch follows Australia's first COVID-19 vaccine approval by the Therapeutic Goods Administration – for the Pfizer vaccine. The Department of Health says that the information in the campaign is intended to be educational and based on independent medical advice. The rollout will begin in vulnerable communities, including elderly people, those living with a disability and frontline workers. 
The new campaign will be launched in three phases. The first will reaffirm the safety and efficacy of vaccines, emphasising that it has been put through an independent approval process. The second will explain the details about when and how they will be rolled out and outline priority groups. The third phase will encourage vaccine uptake by informing where people can get vaccinated.  
Minister for Health, Greg Hunt has said: "Australia is a vaccination nation – we have one of the highest vaccination rates in the world. Australians understand that vaccines work. They save lives. They improve lives. They protect lives."
The campaign has a big task ahead, particularly given the spread of misinformation on the internet. A recent report called 'Journalism, media, and technology trends and predictions' from the Reuters Institute has predicted that 2021 will see anti-vaccine campaigns reach new pitch and "bottom-up activism and small well-organised groups drive much of the spread of anti-vaccine messaging."
University of Sydney Professor Julie Leask reiterated the importance of getting communication and dispatch right. "We're at a really pivotal time in terms of COVID-19 vaccination. This is a new program and people will have a lot of questions, and they'll be making decisions about whether they'll have the vaccine or not," Professor Leask told the ABC.