Land, sea or sky – brands ensuring maximum reach for Melbourne Cup 2018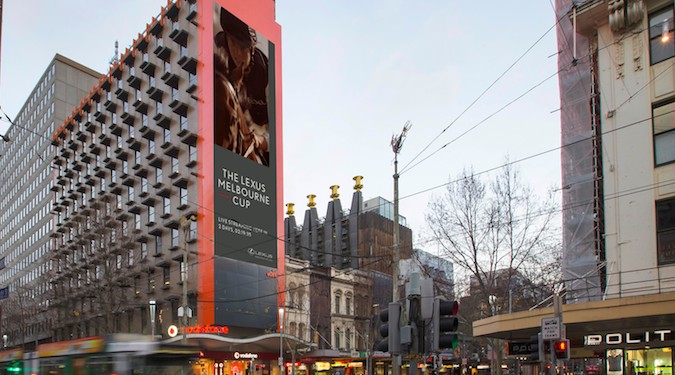 Twitter, Seven, Lexus, Qantas and oOh!Media are taking precautions to ensure Australians can watch the Melbourne Cup no matter where they are.
Brands are taking special care this year to see that the Lexus Melbourne Cup stops as much of the nation as possible.
As part of a week long campaign for Lexus, come 3pm tomorrow Qantas passengers on domestic B737 and A330 Wi-Fi enabled flights will be able to stream the race live via their laptop, tablet or smartphone.
The campaign will also see the race streamed live through oOh!Media's screens in Qantas Clubs, Domestic Business Lounges and on the Collect and Connect TV screens at baggage carousels in all Australian international airports.
The race will also be broadcasted live to 'The Bourke' on Melbourne's Bourke Street Mall, "Australia's largest full motion digital billboard" according to oOh!Media.
Says oOh!Media CEO Brendon Cook, "We are thrilled to take what is one of the key sporting events in the country to new heights through the live streaming on massive screens – in Melbourne city and airports nationally – through to devices 30,000 feet in the sky.
"This campaign by Lexus recognises that out-of-home is a public space medium that enables brands to captivate, gain deeper connectivity and inform audiences through innovative use of the new technology available."
For those not in the air or within range of an oOh!Media billboard however, Twitter will also be streaming the Melbourne Cup tomorrow, available to both logged-in and logged-out users.
Partnering with Seven, Twitter is set to offer racing fans access to a selection of live and exclusive Melbourne Cup content, as well as additional live streams for the Kennedy Oaks Day and Emirates Stakes Day races.
Further Reading: