Frothing for World Cup updates? This Swedish brewer is printing Tweets on its beer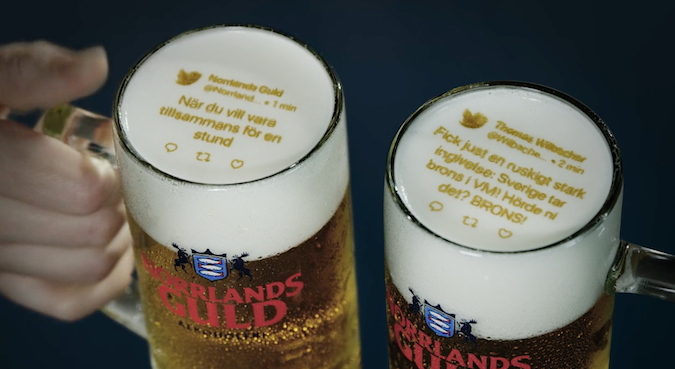 What are the two things occupying your hands while watching the World Cup? Put away your phone because this beer has the latest World Cup tweets printed on it.
Swedish brewer Norrlands Guld has combined every World Cup fanatic's essential needs – beer and constant social media updates. In partnership with media agency Akestam Holst, the beer brand has developed a machine that prints from a live World Cup Twitter feed on to the foam of a beer.
'The Social Beer' campaign is designed to remove the distraction of phones when watching the World Cup. The campaign is accompanied by a 40-second spot demonstrating the machine in use.
The machine scans Twitter for what it deems to be the most relevant World Cup coverage, and using a malt-based ink, imprints the Tweet – symbols, buttons and all – into the beer's head. Guld says the Cupdates are served only seconds after they appear on the platform itself, "follow social media live on your beer instead."
The machine saw its debut at Sweden's rehearsal match against Denmark. Unfortunately this revelation in beer technology will not be making its way to Australian shores. Bars throughout will Sweden will enjoy informative beers over this year's World Cup season.
Further reading