TV and online video to take up half of global ad spend – Zenith forecast
Australian ad spend is expected to rise by 3.3% in 2018 to $16.72 billion, according to Zenith's latest advertising expenditure forecast.
According to Zenith's 'Advertising Expenditure Forecasts', published today, online video and paid search are driving the growth in global ad spend in 2018. The report found that between 2018 and 2021 online video advertising will grow at an average of 18% a year, twice as fast as other forms of internet display advertising and well ahead of any other channel.
"Driving online sector growth is the increase in ad spend across video and mobile," says Zenith Sydney head of investment, Elizabeth Baker.
"According to the latest IAB report released for FY2018, video expenditure has increased by 44.6% from FY2017, accounting for 42% of display."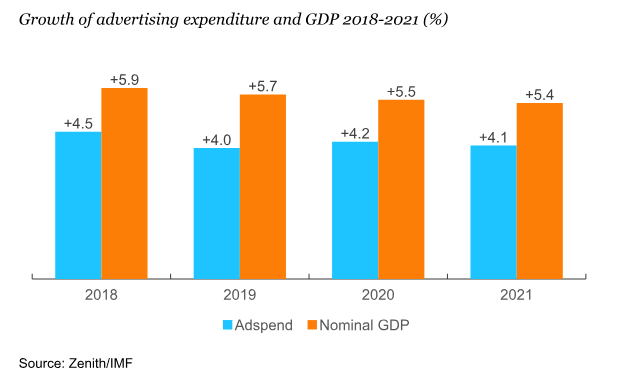 According to Zenith, online video and television are becoming more important to advertisers' brand-building campaigns. The combined share of ad spend between these two media has risen from 46.2% in 2012 to 48.4% this year. By 2021, Zenith expects television and video to have a combined 48.8% share of global 'display' advertising – a higher share than television ever achieved on its own.
"TV remains stable, buoyed by events, finance sector investment following the RoyalCommission into the banking and financial services industry as well as Government spending, although for the back quarter, increases in Government spend are likely to stabilise as Same Sex Marriage campaigning kicked off in October 2017. The Federal Election in 2019 will ensure that Government investment remains strong," Baker continues.
In Australia, Zenith anticipates ad spend will increase by 3.3% in 2018 to $16.72 billion (US$12.34 billion), a stable projection from the September forecast. All media – with the exception of print – is likely to be stable in 2018 with out-of-home and internet out-performing the total media trend.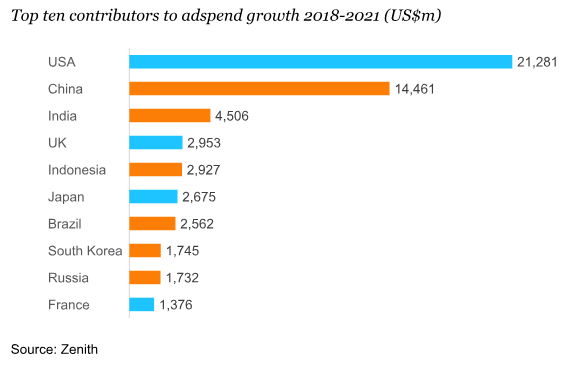 According to Baker, given the ACCC's recent approval of both the JCDecaux/APN and oOh!Media/Adshel mergers, "this should continue to see the sector thrive."
"Out-of-home's success in 2018 is largely attributable to the increasing digitisation of the sector, with digital panels accounting for close to 50% of revenue.
"Operating cost efficiencies gained from the merger will undoubtedly unlock greater investment in technology, infrastructure and digitisation and the greater depth of assets should result in better product offerings for advertisers."
Globally, Zenith's data shows that ecommerce advertising is about as advanced as it was in China at the end of the last decade. Amazon accounted for 0.8% of global ad spend in 2017– generating nearly US$5 (AU$6.8) billion in advertising revenue – the same proportion that Chinese ecommerce occupied in 2009. According to Zenith, if global ecommerce follows a similar path to China's, it could account for 18% of global ad spend by 2027.
"Ecommerce advertising is poised to transform the advertising market in much the same way that paid search did in the last decade," says Jonathan Barnard, Zenith's head of forecasting and director of global intelligence. "It could bring US$100 billion in new money into the market over the next 10 years."
Further Reading:
Image credit:Christine Roy