Outdoor advertising: the new tricks of the trade
Grant Guesdon talks us through some big outdoor developments in Australia and around the world that will see the medium offer unprecedented performance.
This article was sponsored by the Outdoor Media Association (OMA), Australia's peak industry body representing companies in the out-of-home advertising sector. It is part of Marketing's special focus on the out-of-home industry.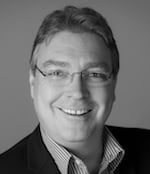 Out-of-home (OOH) advertising is on the precipice of great change. This comes as a result of hundreds of millions of dollars invested in technology by the OOH industry, and now almost 50% of revenue now comes from digital signs. These signs offer the benefits of being flexible, timely and targeted. More than a one-trick pony, the big, bold, broadcast messages on OOH can now be selected for an exact location, time, and day – the ultimate in targeted advertising.
It is estimated that, by 2050, 94% of the population will live in urban environments, which will trigger exponential growth in OOH audience numbers. The potential of digital technology and an increasing audience stimulate new thinking and discourse around creativity and measurement. Capturing audience data to provide accurate and transparent reporting will become even more critical and the sources for that data are increasingly complex.
Innovation in audience measurement
MOVE – Measurement of Outdoor Visibility and Exposure – is the Australian industry's currency for measuring OOH audiences and has become an essential tool for media planners over the last 10 years. It is the only OOH audience measuring system in Australia to be endorsed by the Media Federation of Australia and the Australian Association of National Advertisers.
With nine out of 10 Australians leaving home each day, OOH measurement focuses on people, places and movement of the masses, capturing audiences as they work, shop and socialise. In today's media plan, there is more focus on audience location and experience measurement. OOH meets this need and has become the headline for cities and a catalyst for conversation – broadcasting to 12.6 million people each day across the five major markets, taking a total of 52 million trips with the potential to see 30 OOH messages.
Last year, MOVE introduced continuous delivery, which enables audience numbers to be updated monthly based on changes to signage and, in recent months, MOVE has announced that it will invest up to $10 million to rejuvenate the system so that it can more accurately measure audiences for digital OOH (DOOH) signs. Over the last few years, the industry has invested in building a modern dynamic channel, with the scale to reach Australians en masse. It is now time to invest further in proving the power and efficacy of the DOOH network.
To produce a metric that is fit for purpose now and into the future, MOVE is investigating various international models, as well as investing in data and research to create the next generation of dynamic audience measurement. Careful consideration is being given to external data sources such as mobile, and issues of privacy and security are top of mind.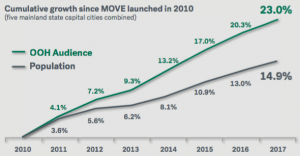 Keeping an eye on our friends overseas
In the UK, OOH audience measurement system, Route is working to provide greater depth to the data and place-based measurement on their terms. James Whitmore, managing director of Route, explains: "A wise man once said 'never set out on a journey using someone else's donkey.' Mobile data sources are seductive but, at present, they do not meet the criteria for a joint industry currency. It is true that mobile promises huge volumes, quick turnaround and is readily available.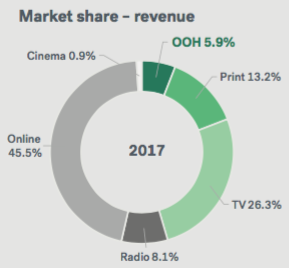 "Nonetheless, we require more openness, certainty and control compared to what is presently on offer. We've made data quality our priority, preferring transparency in our method to black box solutions. In short, we're placing our values at the heart of everything we do – to ensure we continue to provide accountable, transparent and objective evidence of who sees OOH ads."
The US OOH measurement system, Geopath, has just launched its new program for location-based advertising measurement. Working with geolocation data solutions provider Intermx, it offers an extensive tool for audience measurement for its location-based OOH members. Geopath CEO Kym Frank says, "With advertisers demanding greater transparency and visibility, the time has come for us to extend that measurement capability to the place-based inventories that comprise the broader OOH marketplace. The OOH community now provides brand marketers and their agencies with an even clearer and truer understanding of the value received from their OOH investments."
The future is now
In the UK and the US it has been predicted that the next revolution in OOH will come in the form of automation of its buying and selling processes. The benefits will be immediate to all users, and here in Australia we are looking toward to similar solutions.
The Automated Planning Platform (APP) has commenced development, with the first stage to be released this year. Initially, the platform will allow media agencies to request proposals from OMA member companies and combine these proposals into a campaign. Agencies will then be able to confirm bookings and receive confirmation files within the software for export, as well as have access to MOVE audience reports to plan more effective campaigns.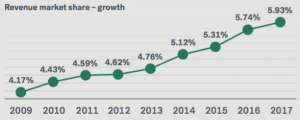 The OOH industry's investment in smart-city technology, infrastructure, digital upgrades and accurate audience measurement is only now being realised. The channel that has long been used for its ability to communicate a simple message, with larger than life images and strong branding, also now provides shareability and the potential for audience engagement. And advertisers are taking notice.
The share of media spend continues to increase and, in 2017, OOH was in the top three growing media channels, alongside cinema and online. With new advancements in augmented reality, beacon technology and facial recognition, we are only at the starting line. Our work today will ensure the trust of the community, the vibrancy of our cities and our value to advertisers well into the future.
Grant Guesdon is general manager at MOVE.
To learn more about out-of-home industry, and how the OMA is working to build a more sustainable industry, click here »