Rudd impersonator spruiks eyewear, questions foreign policy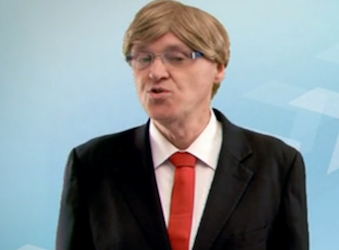 Eyewear retailer Optical Superstore is taking full advantage of the the federal election campaign, using a Rudd impersonator to spruik its glasses and at the same time controversially sharing its political views.
In a bizarre move, the company is using the TV spot as a vehicle to not only promote their products, but to question Australia's foreign aid contribution to Indonesia. The spot is a parody of an official ALP ad, where Prime Minister Kevin Rudd explains Australia's position in the global economy. Ian Melrose, owner of Optical Superstore and human rights campaigner, is also funding advertising for Democratic Labor Party Senator John Madigan, which pushes the same message (minus the eyewear part).
The spot refers to the Kevin Rudd impersonator, played by Anthony Ackroyd, who helped create the script, as 'The Ruddster' and goes on to questions Australia's aid contribution to Indonesia. The commercial finishes with the impersonator saying, "I can see this issue so clearly now because I bought my glasses from The Optical Super Store".
The Optical Superstore 'Ruddster' commercial:
The ad was created by Zest Media and will be run on SBS television for the duration of the election campaign.
The original ALP commercial:
The ad featuring Senator Madigan, funded by Optical Superstore: