Sensis rebrand features cartoon animals and a focus on digital
Sensis has launched a new-look branding as part of its digital growth strategy. The identity features a cartoon mouse, as well as a host of other characters, to demystify confusing topics for businesses. 
Sensis has ambition: to become the number one marketing services company in Australia. The rebrand it has revealed this week aims to reflect its new digital focus, and to particularly appeal to small and medium businesses.
The new brand identity is a significant departure for Sensis. It features 'Dash', a mouse, and a host of colourful cartoon characters, but CEO John Allan says it's about more than just a new logo.

"Dash represents the characteristics we need continue to succeed in the future: agility, adaptability and resourcefulness. He is a metaphor for our ambition to help our customers.
"Regardless of their size, most Australian businesses have a number of things in common. They're hardworking, resourceful and nimble, just like Dash. They solve problems, take calculated risks and keep a close eye on their resources."
For Sensis, Dash will be the platform for all of its communications. The character, "demystifies confusing topics such as scale, reach and use of technology – transforming them into simple straight-forward stories."
Allan says the brand identity leverages the equity of Sensis' consumer brands, and positions Sensis as the leader: "The instantly recognisable character illustration brings a warmth and human touch to our brand while being flexible, helpful and, most importantly, encouraging,"
Dash will be supported by a cast of characters, like Hazel the squirrel who represents good value and Micky the robot, who translates technical jargon into plain English.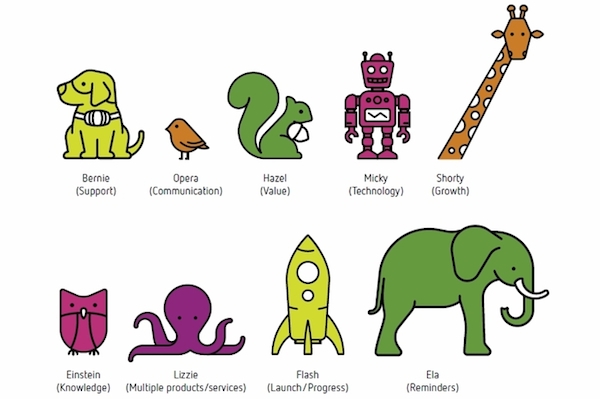 The rebrand was developed by Interbrand, and was launched internally this week. It will be rolled out across Sensis' products and services over the next few months. A customer communications program regarding the new brand will begin in the next few days.
'Print still important'
Despite the focus on digital, Allan says print will continue to be an important source of revenue for Sensis in the foreseeable future, but the company's key focus will be to continue to innovate in the digital space to ensure its products and services offer what the market expects.
"Throughout our 134-year history, Sensis has always found ways to innovate. Some of our products have existed since 1880 and over the years we have innovated to ensure they remained relevant to Australian businesses and consumers. For example, in 1994 we were the first directories company in the world to go online," he says.
RELATED: MarketingTV CMO interview: Michelle Sherwood, Sensis, on marketing's changing role and content marketing success »
"Over eight million people continue to access White and Yellow Pages printed books each month. Alongside this, Sensis digital products increasingly play a critical role in connecting businesses to customers with over half the Australian population using our digital products at least once a month.
"Our commitment to digital innovation is also strongly reflected through our 400-strong product and engineering workforce and our innovation across our various digital products in recent times."
Allan says the digital age created a daunting maze of options for time-poor SMB owners and operators and Sensis' understanding of the SMB market places it in an exceptional position to help Australian businesses with their marketing needs.
"Businesses need a partner that is able to deliver engaged customers to them, across a number of digital platforms and channels. That's what we intend to be. We want to be simple to deal with, faster and continue to meet the needs of our customers in the evolving digital media market. We are investing heavily in this area to deliver our customers greater services and value."
RELATED: Sensis sheds 800 jobs in move towards digitally-focused marketing services company »