Trump and associated brands under fire in #GrabYourWallet boycott campaign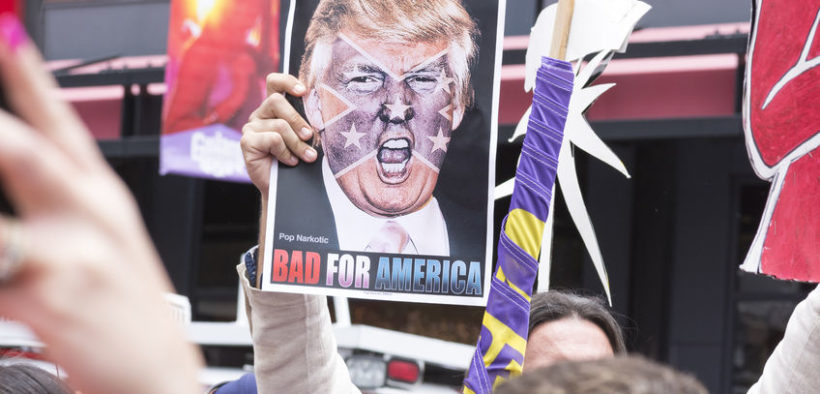 The #GrabYourWallet online social movement has seen the creation of a Google spreadsheet naming brands to avoid due to their association with Donald Trump, his brands and his family.
The #GrabYourWallet social campaign is gathering momentum online, centred around a boycott list of brands associated with Donald Trump.
Big name brands on the list include Amazon.com, Macy's and Bloomingdales for stocking Donald and Ivanka Trump brand products, as well as MillerCoors, whose CEO raised funds for Trump, the UFC, whose president endorsed Trump, and National Enquirer and People Magazine for 'normalising Trump'.
–
Related: Brands versus boycotts, emotions versus facts – Brodsky on the history of boycotts »
–
The list, which was started by Shannon Coulter in the leadup to the election, has not taken down some brands which have since distanced themselves from the now President Elect.
One example is New Balance. An executive was quoted by Wall Street Journal reporter Sara Germano as saying he thought America would "move in the right direction" under Trump. The ensuing outrage saw the brand added to the list and some New Balance owners throw out and burn their shoes in protest. New Balance has since issued the following tweet championing multiculturalism and saying the executive was taken out of context :
— NewBalanceUSA (@NewBalanceUSA) November 15, 2016
But it seems too little too late, as New Balance remains on the list.
Brands who have been at one time or another associated with Trump but have managed to stay off the list (in a sense) are included on the list in a "companies we considered but are *not* being boycotted at this time" section.
These include:
Home Depot, who avoided boycott because "Home Depot co-founder Bernie Marcus endorsed Donald Trump for president but is no longer w/ the company and all Trump Home products on the site are marked "Discontinued. We are no longer carrying this particular product."
The Washington Post: "Amazon CEO Jeff Bezos also owns The Washington Post but the Post's David Fahrenthold also did some of the most important investigative reporting of the election. When polled 58% of #GrabYourWallet participants said the Washington Post should not be added to the boycott list", and
Paypal:  "Co-founder Peter Thiel is an official Trump campaign surrogate but is no longer directly involved with Paypal as a company and does not sit on its board. Given his current non-involvement with the company and given that many small businesses rely on Paypal for purchases, we've chosen to move Paypal to the Not Boycotting at this Time part of the list, despite our objections to Peter Thiel's involvement in the Trump campaign and overt role in normalising a racist / misogynist.
Check out the list for yourself here »
Image caption: SAN DIEGO, USA – MAY 27, 2016: A protester holds a sign featuring an angry photo of Donald Trump and reading "Bad for America" at an anti-Trump protest outside a Trump rally in San Diego. Copyright: shakzu / 123RF Stock Photo