TV fights off online video: Aussies continue to prefer lean back experience
Viewership of broadcast television remained steady in the second quarter of 2012, with the average viewer watching 100 hours per month, a point it has hovered around for the past year.
The findings, from Nielsen and OzTAM's 'Australian Multi-Screen Report', show that 95% of all video content is accessed through the traditional television set, despite an increasingly connected audience and increasing flexibility of content options.
Among the 45% of Australians who accessed broadcast or non-broadcast content on PCs, the report estimates an average of three hours and 58 minutes were spent watching video per month. However, this figure does not include current estimates for time spent watching video via smartphones and tablets, which were last collected in quarter four of 2011.
Young Gen Y's are the most likely to engage in multi-screen behaviour, with people aged 18 to 24 years spending the most time per month (six hours and 25 minutes) of any age group watching video on a PC. They are also the most likely to watch TV via catch up or playback means, with 9.6% engaging in this behaviour.
CEO of OzTAM, Doug Peiffer, says, "Australians love television and are increasingly using new devices to stay in touch with their favourite programs and enjoy video whenever and wherever they wish."
60% of online Australians aged 16+ multi-task by using their TV screens and computer screens simultaneously, the report also found, indicating that the second screen continues to play a complementary role to TV viewing rather than threatening to replace it.
Broadcasters are seeing the complementary nature of the second screen as an opportunity, with both Channel 7 and Channel 9 releasing social TV apps this year. As of August, Channel 7's Fango had been downloaded 537,000 times, with over 50,000 polls and more than 90,000 trivia questions answered during the month.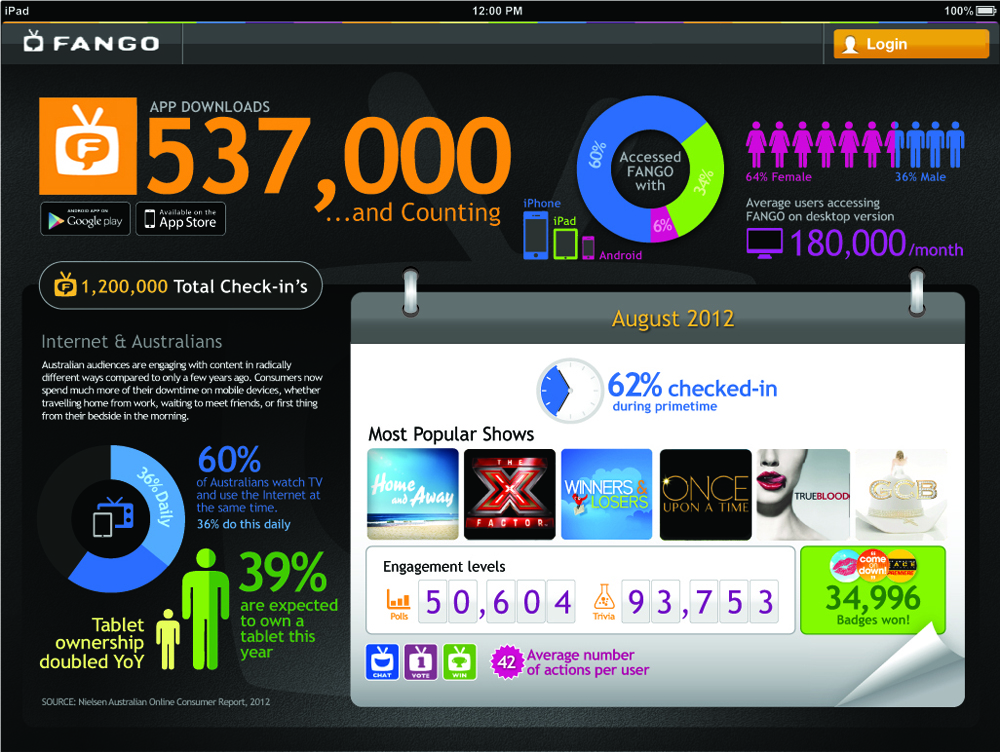 Channel 9 launched its social TV app 'Jump In' to coincide with the 2012 London Olympics but is yet to engage in promotion of the app outside of the Games' period.