Forrester: Social media 'barely negligible' as a sales lead
Social media has a "barely negligible" impact on sales for online retailers, according to a study conducted in the US by Forrester.
The analyst firm's 'Purchase Path Of Online Buyers' report, which tracked 77,000 purchases to identify the most fruitful sources of sales, found that only 1% of sales came from links placed in social media.
The value in social media is more in its slow burn effect, the report's author, senior analyst Sucharita Mulpuru, writes: "While the hype around social networks as a driver of influence in ecommerce continues to capture the attention of online executives, the truth is that social continues to struggle and registers as a barely negligible source of sales for either new or repeat buyers.
"The reality is that even the most popular social image-sharing sites (like Pinterest) have failed to move the needle with respect to sales for most retail sites."
Social media and other 'top-of-the-funnel' methods, such as display advertising, are more likely to play a role in the influence chain when it involves multiple touchpoints, which Forrester estimates occurs for 33% of transactions from new customers and 48% of the time for repeat customers.
As a direct source of sales, web marketing mainstays of search and email continue to be the most fruitful despite changes to the interactive marketing landscape and the growing number of shoppers, the report says.
For new customers, the most common single source of sales were direct visits at 20%, organic search at 16% and paid search at 11%. For repeat customers, direct visits at 20%, email at 13% and organic search at 6% brought in the most sales in a single touchpoint interaction. In multiple touchpoint transactions, they remained the most influential with the addition of display ads.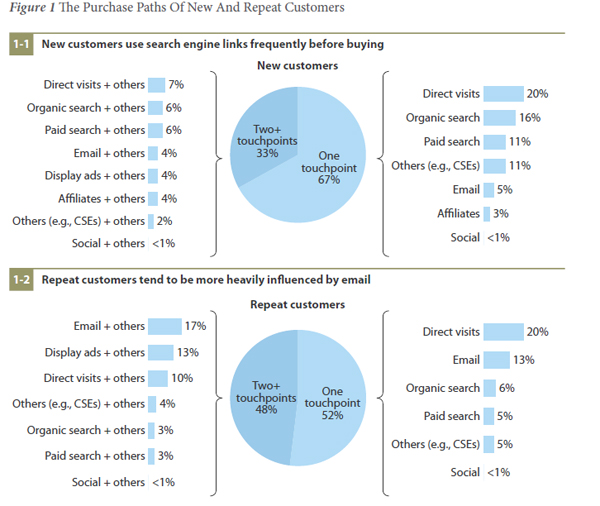 Mulpuru recommends perfecting email marketing techniques, a continual focus on search engine marketing, caution in overestimating the impact of social media and actively promoting simple URLs across a range of channels in order to play to today's online influence model.