Unmissable content in context – the OOH Holy Grail
New developments in out-of-home marketing powered by intelligent analysis have made placing your brand in the right context with the right audience a very real prospect.
This article was sponsored by oOh!Media to let readers know about the Unmissable Awards and is part of our current special focus on the out-of-home sector.
When the world leader in group travel for the 18 to 35 age group, Contiki, launched an out-of-home (OOH) campaign late last year to push its European packages to its key demographic, university students, it didn't expect to see such an uptick in revenue – let alone a 300 percent increase in sales.
But that was the result of an integrated OOH advertising, online and social campaign supported by native content.
"The campaign exceeded our expectations," says Contiki head of marketing Vanessa Stavrou. "While we knew the activity would get us in front of our core customer, we were also pleased to see it deliver such strong commercial results driving from engagement to conversion." Based on time and day, customised creative was displayed on screens across 99 university campuses nationwide, bolstered by a three-part native content series on Uni.junkee.com that was amplified on panels and via Facebook.
Content was based on things important to students – mid-year breaks, money-hacks, bucket lists and experiences. The campaign proved how successful a campaign can be when the brand is placed in the right context, with the right audience. It's unmissable.
So, what was so special about the campaign? oOh!media CEO Brendon Cook says the sector has moved in leaps and bounds over the decades and is delivering advertisers with powerful solutions to engage with their audiences.
"The powerful combination of innovative digital technology and relevant and engaging creative content has transformed how audiences are engaged. Advertisers are no longer restricted to the relatively narrow confines as they used to be. Whether it's at a university, café, airport lounge or simply driving down a street passing an unmissable billboard, advertising has never been more effective, entertaining and available," says Cook.
Life beyond the billboard
OOH has also developed into a multimillion-dollar business. In fact, industry experts predict the market will exceed $1 billion in 2018 for the first time ever.
Not only has the market changed dramatically over time, so has this type of advertising as we know it. While once confined to billboards on the side of the road or on buildings, advertisers now have the ability to amplify their message like never before. They can integrate a number of channels and platforms to distribute rich, interactive content, which delivers not only more engaging experiences for the consumer, but powerful branding and product awareness.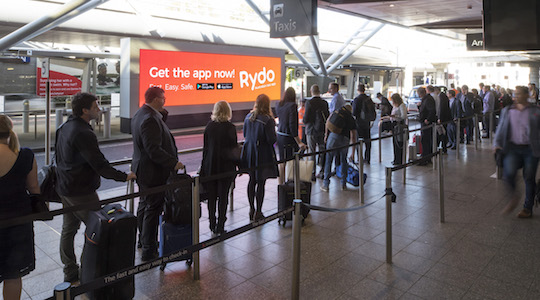 OOH vendors have had to completely transform their operations, staffing and what they offer clients and consumers to keep pace with a rapidly evolving media market. 'Billboard companies' won't cut it anymore – brands that survive have to be new media companies that generate revenue from a broad range of new environments. In addition to having traditional OOH inventory, they must also be great digital and publishing businesses.
Marketers should consider how OOH can carry news, entertainment and customised native content across roadside, retail, airport and locations such as gyms, universities, offices and hospitality locations, and how, in turn, this messaging can be rolled into a broader media mix to gain engagement. This advertising is not static, it's reactionary. The best examples change depending on the time of day, the weather or whatever the situation. It is also interactive, with touch screens to encourage consumer engagement.
Narrowing in on the target market
Equally as exciting as the development of OOH advertising is the power it now has to more intelligently and accurately target relevant markets – by demographic sector, gender, location, interest and 'buyergraphics'.
Through the appointment of data scientists and partnerships with data and analytics leaders, high quality targeted campaigns can be developed and delivered based on hyper-relevant insight. This is a game-changer. "Who would have thought a decade ago, that OOH companies would be employing any type of scientist, let alone data scientists?" says Cook.
The emergence of data scientists and data partners in the field enables advertisers to better leverage their spend. Global mobility intelligence gives the ability to translate raw location-based data into powerful insights on where, when, why and how people move in an aggregated and anonymised way. An example is oOh!media's work with DSpark researching the movements of one target market: Chinese travellers in Australia.
"Outside of flight arrival data, there had been little information available to help businesses understand the movements of Chinese audiences in Australia," says oOh! CMO Michaela Chan, "and as a result [those businesses] were unable to effectively target the largest and extremely lucrative inbound visitor market.
The Chinese traveller audience is a growth market, with more than 1.6 million Chinese visitors to Australia spending more than $11.7 billion on local goods and services. When you consider that the top 10% of these visitors are spending more than $3000 per day, it is an audience that most advertisers would like to effectively engage with. However, until the joint study, there was nothing around to help make informed decisions around how to reach this audience."
The research showed six of the top 10 most visited shopping areas were not in the inner city, but the suburbs. For the long duration visitors, who stayed for more than 30 days, the top 10 shopping areas were all found in suburban locations. Suburban shopping precincts also had the highest frequency of visits.
For instance, the study revealed that 15% of all Chinese travellers visited one of Sydney's largest suburban shopping centres three times or more during their stay. Another example is oOh!'s Australian-first audience targeting work with Quantium. A trial campaign for Mondelez's Cadbury Favourites optimised and harnessed real transactional data. Linking customers that had been exposed to branded assets nationally with Quantium's anonymous transactional data enabled the identification and targeting of transaction-based buying audiences for specific advertisers.
As a result, Cadbury Favourites was able to more effectively target those identified – based on transactional behaviour – as having a greater propensity to purchase for social occasions. The optimised approach meant the campaign reached 15 percent more of this valuable audience than would usually have been possible. Insights such as these are invaluable for advertisers who are trying to make the right decision about where to focus their advertising and engage with their target audiences.
The insights also allow advertisers to navigate the execution and determine things like the best time and the best day to advertise.
Unmissable content and context
While OOH has the ability to amplify a brand's key message and reach a target audience, it's important to recognise that with this power comes responsibility – the responsibility to create better, more powerful and engaging content.
The demand and expectation from consumers for effective native content has never been fiercer. In fact, insights from oOh! and Junkee Media's annual study into Australia's youth shows that two in three Gen Y and Gen Zs are supportive of brands producing great content if it is high quality, relevant and clearly branded. Furthermore, 78% are not opposed to liking outdoor ads that tie in with 'wherever they are' or 'whatever they're doing'. The Contiki campaign is testament to the power of native content. It also exemplifies how advertisers are indeed raising the bar to meet consumer demands when it comes to creative content.
"It's never been more important for brands and agencies to continue to push the boundaries of what is possible, to have not only great content but for it to be contextually relevant. Whether that's advertising concepts and campaigns or extending the realms of digital technology and social media," says Cook.
"With the combination of a growing population, increased mobility and the ever-present digital devices that we possess, the reach and engagement of OOH advertising has never been greater. The right medium teamed with intelligent insights and groundbreaking digital innovation will continually help advertisers reach the right audience, in the right place and at the right time. There's arguably no better way to drive engagement and, ultimately, see a remarkable return on investment."
Find out how oOh! can make your brand Unmissable here »