Alcohol brands are targeting young sports fans through social media – study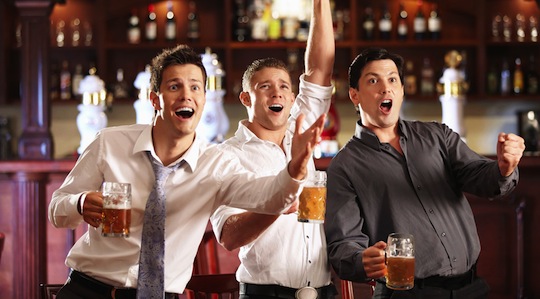 Alcohol companies are using increasingly sophisticated social media strategies to promote drinking as an essential part of the sporting experience, a new study has revealed.
The 'Merging Sport and drinking cultures through social media' study, funded by Foundation for Alcohol Research and Education (FARE) and undertaken by RMIT University, found that alcohol companies are encouraging consumption by cleverly timing social media posts to tie in with professional sporting events.
One of the authors of the study, RMIT's associate professor Kate Westburg, said the alcohol industry's social media strategies were carefully developed to go beyond promoting products.
"The ultimate goal appears to be to merge the drinking culture with sport culture. They seek to normalise consumption by using social media to present drinking as an integral part of the sport experience whether spectatorship, celebration or commiseration."
When you hear the twist of the VB cap, it's time to sit back and watch our boys take on the world. #AUSvAFG #cricket pic.twitter.com/oypFYNglcq

— Victoria Bitter (@Vic_Bitter) March 4, 2015
The study analysed content on Facebook, Twitter and YouTube around the AFL, NRL and Australian Cricket 2013-14 seasons. It examined brands such as Carlton Draught, Victoria Bitter, Wild Turkey, Jim Beam, XXXX Gold and Bundaberg Rum.
Most sport-linked social media strategies included calls to action to "stimulate consumers to actively engage with the brand, rather than passively receiving brand messages, as is the case with conventional advertising," said Westburg.
Brands used a range of media to engage consumers and gain access to their extended social networks:
Smartphone apps,
push notifications,
trivia and tipping competitions,
celebrity endorsements,
promotional merchandise,
videos,
memes, and
co-created content.
Some social media posts even prompted fans to head to a pub when a game was about to start.
If you promise to visit the pub and watch the #footy, we promise to give up poetry. #madefrombeer pic.twitter.com/XW30RArKrM

— Carlton Draught (@CarltonDraught) March 21, 2014
The report found the alcohol industry was using social media to target consumers, particularly young drinkers, with product messages themed around sporting identity, culture and camaraderie.
FARE chief executive Michael Thorn said the report raises concerns over the ways in which the alcohol industry is able to shape drinking culture and manipulate consumers.
"Alcohol's marketing and sponsorship linkages are most apparent on our TV screens, but in fact, are just as insidious on social media where the alcohol industry has become increasingly sophisticated in the ways it ties its products to professional sport.
"Of concern, the online space is even less regulated than traditional media. Self-regulation isn't working, it isn't protecting children from harmful alcohol advertising and those harms will continue until such time that the Commonwealth Government steps in."
Carlton and United Breweries has not responded to Marketing's request to comment on the findings this morning.