David Jones launches new premium branded content platform with print magazine and app
The print magazine and app of David Jones' new premium branded content platform, Jones launches today.
Department store David Jones has launched the first issue of its premium branded content platform, Jones magazine. 
Published by Medium Rare Content Agency and edited by Deborah Bibby, Jones features highly-respected fashion director, Thelma McQuillan, award-winning writers Mark Mordue, Noelle Faulkner and Dr Libby Weaver, as well as world-renowned photographers Simon Lekias, Jez Smith and Georges Antoni.
"Jones shares the moods of the season and the inspiration behind the trends," says Bibby, who was previously editor-in-chief of Real Living. 
"We give readers access to the very best designers, muses and influencers. And we provide solutions for both every day and special occasion styling needs. Our overall aim is to showcase the covetable, celebrate the bold and ignite a conversation with our readers."
The first issue includes an exclusive interview and photo shoot with Elizabeth Debicki, a unique insight into the fascinating collaboration between Carla Zampatti and Romance Was Born, and the secrets of creating memorable interiors from stylist extraordinaire, Sibella Court.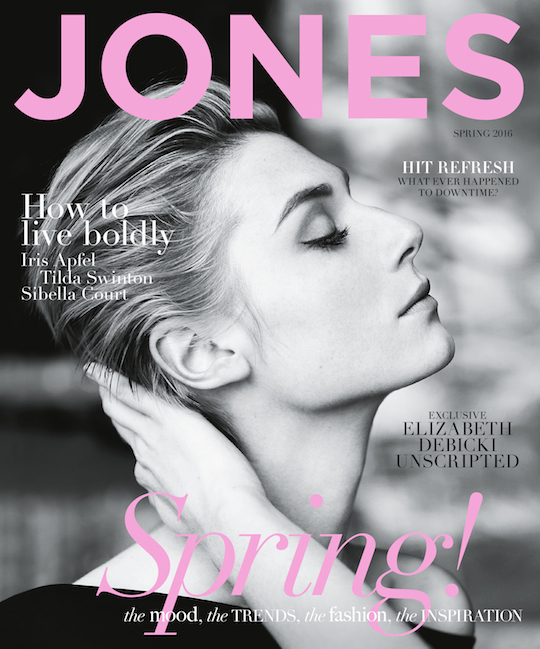 "Launching Jones magazine and app allows us to connect with new and existing customers in a way that speaks to their needs," says John Dixon, CEO of David Jones. "It delivers a curated edit with an independent voice which – by seamlessly integrating into our digital, social and in-store platforms – enables an efficient content strategy to inform and inspire our customers anywhere, anytime."
The quarterly magazine, which has an RRP of $9.95, is available for sale at all David Jones stores and selected newsagents. Jones magazine's guaranteed circulation of 250,000 includes 120,000 copies mailed to David Jones' highest-spending customers.
The first issue has 71 pages of advertising and includes brands such as Dior, Tom Ford, La Prairie, Coach, Armani, Estee Lauder & Gucci.
The Jones app is available for free to download from the App Store and Google Play and will keep customers up-to-date on a weekly basis with all things fashion, beauty and lifestyle.
"This gives us a unique opportunity to develop, tailor and evolve content, based not only on our shoppers' needs, but also on their actions," says Dixon.