Facebook adds video calling to Messenger in latest update to bolster the platform
Video calling capability is the latest in a string of updates to Facebook's Messenger service, boosting the platform's capabilities to rival Skype and others.
The company announced yesterday that it has updated messenger to include video calling (the service already allows voice calling), in a selection of countries excluding Australia, with more to be included in the coming months.
The countries to receive upgrades to their Messenger capabilities on iOS and Android are Belgium, Canada, Croatia, Denmark, France, Greece, Ireland, Laos, Lithuania, Mexico, Nigeria, Norway, Oman, Poland, Portugal, the UK, the US and Uruguay.
Stan Chudnovsky, head of product for Messenger and engineering manager, wrote on the company blog:
"Video calling will expand Messenger's real-time communication features, enabling the more than 600 million people who use Messenger every month to reach others wherever they are, from anywhere. It's fast, reliable and high quality.
"If you're messaging with someone and realize that words just aren't enough, you can simply choose the video icon in the top right corner of the screen and start a video call right from within an existing Messenger conversation."
The company also recently announced new features helping to easily integrate Messenger with other apps such as those offering GIFs and emoticons.
Click image to enlarge.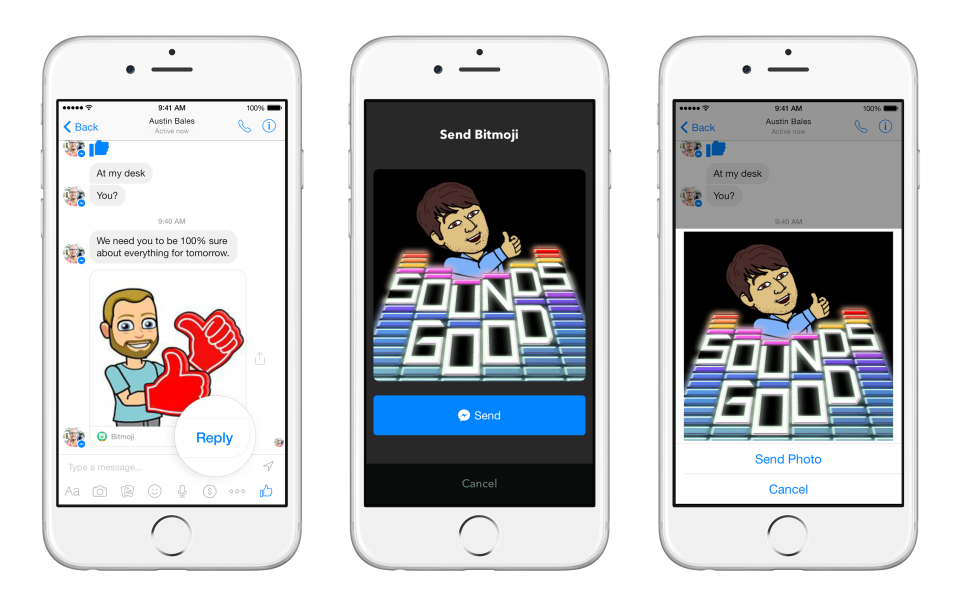 Businesses on Messenger
At F8, Facebook's developer conference last month, the company previewed its Businesses on Messenger function, which allows personal conversations between businesses and customers.
"For example, after purchasing something from a website, people can choose to receive updates in Messenger and continue their conversation with the business in the app," the company wrote on its blog.
Customers can discuss logistics such as order confirmations and shipping status updates, and modify, track or return orders.
The latest on this update is:
"Businesses on Messenger will initially launch with a couple of partners and we hope to share more soon."
Click image to enlarge.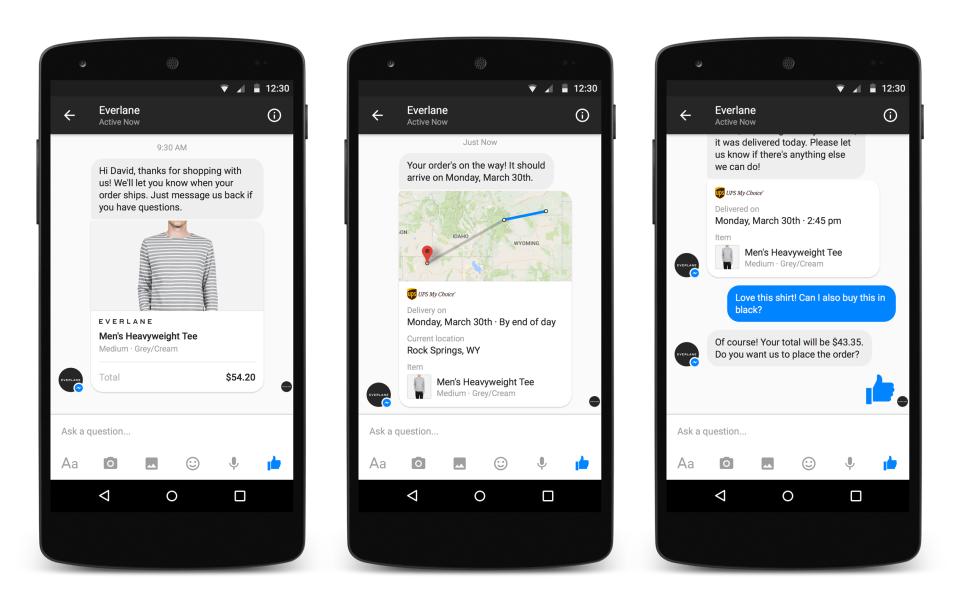 Messenger facilitating payments in the US
Last month, Facebook announced it was giving people the ability to transfer money between friends using the Messenger platform.
Users in the US can add their debit card information to the app and send transfers to friends while messaging.
The social network insists it incorporates security best practices, using secure systems and encryptions.
"These payment systems are kept in a secured environment that is separate from other parts of the Facebook network and that receive additional monitoring and control," the company blog says.
No doubt if this roll-out is successful overseas it can be expected to launch in Australia at some point in the future.
Click image to enlarge.