Gumtree's Aussie Pickers brand ambassadors hit the road in experiential campaign
Gumtree is teaming up with the TV stars from Aussie Pickers to launch an experiential campaign that integrates social and digital elements.
As part of the Gumtree Roadshow, stars of the Foxtel series Aussie Pickers, Lucas Callaghan and Adam McDonald, will tour the east coast of Australia scouring four thriving markets, at Glebe, Maitland and Bellingen in NSW and Carrara in QLD.
The project will integrate social and digital elements hosted at a website landing page featuring embedded YouTube videos, links to the project's blog and a social wall of posts curated from Facebook, Twitter and Instagram with the hashtag #GumtreeRoadshow.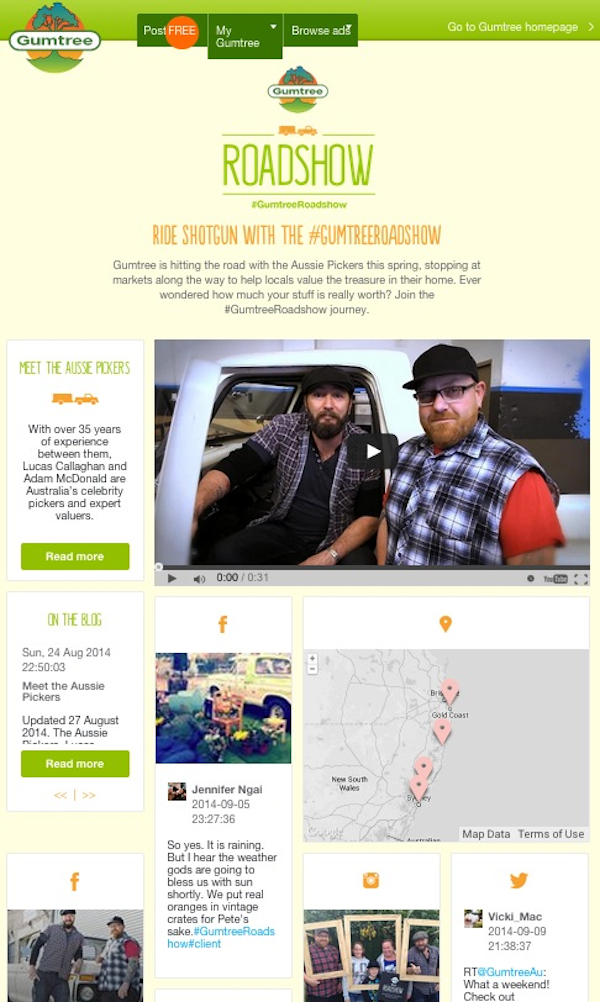 Locals at the four market towns are encouraged to take part in the experiential campaign by bringing along their unwanted goods to be valued.
The campaign aims to prompt people to "start thinking about selling their unwanted goods" on Gumtree's website.
Gumtree Australia head of marketing, Sara McConkey said: "The Gumtree Roadshow is an offline representation of the website and shows Aussies the breadth of goods and services available. Everything within the market stall, from the furniture, signage and entertainment, truck and juice bar, was exclusively sourced from gumtree.com.au."
Gumtree also sponsors native advertising as part of the Aussie Pickers TV show on Foxtel, with the team showcasing a 'Gumtree pick of the week'.