Hamish and Andy recruited to further push Rhonda and Ketut campaign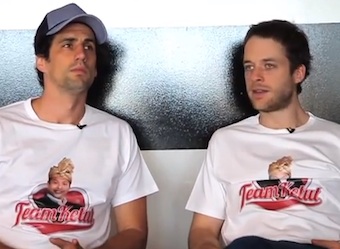 Radio funny-men Hamish and Andy play a role in the latest instalment of AAMI's  Rhonda and Ketut campaign. AAMI is now sponsoring Hamish and Andy's Today Network Happy Hour podcasts, with a piece of branded content featuring the comedians taking their #TeamKetut pride too far.
The video is part of AAMI's Who's Right for Rhonda? campaign which is aiming to trigger a social media debate at the whether Rhonda should end up with her Balanise love interest Ketut or her highschool love interest Trent.
The insurer's most recent ad, saw Rhonda fall into the arms of Trent Toogood after slipping over in her new shoes, (paid for by her AAMI safe driver rewards).
The branded video features a prank the pair play on a Trent lookalike.
http://www.youtube.com/watch?v=H2sbhc8sFco&feature=share&list=UUWXJjBJSG6S3Z4R8lQXxfYw
The Rhonda campaign has been created by Ogilvy Melbourne.