Pinterest promoted pins will take user information to improve results for advertisers
Pinterest is integrating analytics and user data into its promoted pins trial currently underway in the US, in which it will show paid-for pins to relevant users and report statistics back to advertisers.
Pinterest's Julie Park wrote on the company blog last week that Pinterest would update its privacy policy on 19 October to make way for the new plans.
"Our plan is to make promoted pins more relevant to pinners, and help advertisers understand how their ads impact their business.
"For example, an advertiser may want to know how often their ads are showing on Pinterest or how many people bought a product after clicking on a promoted pin."
Pinterest began its promoted pins trial in the US in May with a group of brands from various industries including:
ABC Family,
Banana Republic,
Expedia.com,
Gap,
General Mills,
Kraft,
Lululemon Athletica,
Nestle (Purina, Dreyer's/Edy's Ice Cream and Nespresso),
Old Navy,
Target,
Walt Disney Parks and Resorts, and
Ziploc.
Pinterest has been notifying its users of their ability to opt out of personal information tracking, by ticking 'no' in response to the following two questions in their account settings:
We sometimes show you Promoted Pins and recommendations based on your activity on Pinterest.

Is it okay if we:

Also use sites you've visited recently?

Also use info from our ad partners?
Back in 2013, Pinterest CEO and co-founder Ben Silbermann wrote a blog post outlining the company's vision for the future of paid-for pins.
He said Pinterest was determined to not introduce banner ads, rather aiming to make promoted pins relevant to users. Promoted pins would be tasteful, transparent, relevant and improved based on feedback, he said.
"These pins should be about stuff you're actually interested in, like a delicious recipe, or a jacket that's your style. Keep letting us know what you think, and we'll keep working to make things better."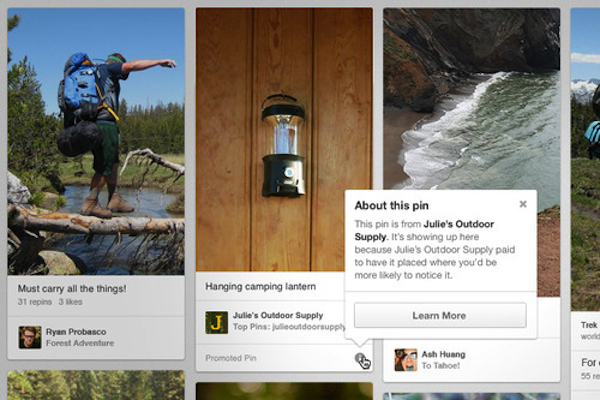 This week's blog post has already received negative comments:
"All of a sudden my Pinterest feed is filled with boards I don't follow. I love good art and these idiots are pinning clown art, big eyed babies and other crap I wouldn't buy for two bucks at a garage sale. Pinterest, do me a favor, don't try to "help me" in finding things I like. You stink at it!"

– Michele Miles Gardiner

"I have noticed lately that I am Following boards that I have never seen before. PLEASE stop doing that! I want to pick the boards I follow. I have been shocked at some of the content that has popped up on my feed."

– Alicia Giles Maree