Five steps you need to win at CX design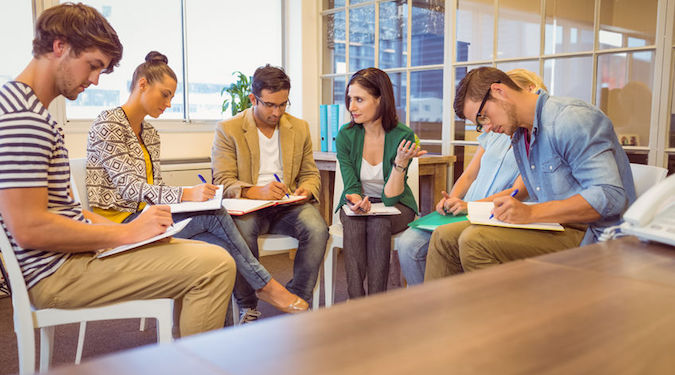 CX design is all the rage, but are customers getting what they want? Design thinking promises to help unlock the answer, writes Adam Faulkner.
Look past the hype and consider that user experience design is still young. Marketers and designers are racing into the digital future with user experience (UX) or customer experience (CX) as their top priority.
At the same time they're trying to figure out which methodologies deliver the goods. It's a mad rush to build services, apps and sites that engage future customers, keep existing customers happy, and deliver a seamless experience.
But the world's changing fast. Mobile technologies, digital and consumer trends swipe by quickly. It's easy to miss the insights that really matter. For customer experience designers, our job is becoming more complex and challenging so how do you get it right? The key for me is borrowing from another discipline that's had more time to mature – design thinking.
Design thinking is an approach that puts the customer front and centre. It doesn't matter what you're building – an app, website, portal, ecommerce store, or enterprise system – your starting point is to put aside intuition and decades-long experience to research and discover what people actually want. How do they think, and what does the data tell us about their behaviour?
This one idea alone will save you from wasting countless hours and money on a product or service that fails to deliver.
For me, design thinking's appeal lies in the fact that we get a rare glimpse into the world inhabited by your customers' thoughts and emotions. Sure, it's challenging for those of us who are technically minded, but your success lies in how well you can blend the right mix of sociology, psychology, and technology.
For example, when we're engaging with a start-up, we spend time gathering customers' insights before presenting our client with a prototype. Company founders who've spent long nights working on business plans, early proof-of- concepts and countless lines of code are often surprised to discover they completely misunderstood what people wanted their service to deliver.
To make matters even more interesting, we then go on to reveal that what people said they wanted, and what they did in the real world, were two totally different things.
Not surprisingly, we find clients often underestimate the importance of UX design until it challenges them with the opportunity to pivot, clarify or double down on a business strategy.
So how do you get it right? Here's my five-step approach to beginning your design thinking journey.
1. People first
Before you build anything, stop and think about your users. Remember, your opinions and presuppositions don't count because you're not the user. It's really important to think about the domain they're in, what the idea is, what they actually want to do, what's the objective of your product or service.
Key to this is taking time to understand the user's primary goals. The way to find out might sound obvious, but talk to people. Real people who fit your target audience, demographic or customer segment. Find clever ways to do this, particularly if you're a startup without a lot of money. Tap into user groups or communities outside your normal circle of friends and family to avoid the inevitable bias that can filter through.
The kinds of questions you're asking are also important. Keep it very broad to begin with, before narrowing down into specific focus areas. For example, if you're developing a service for the holiday market, don't ask them about specific brands or your specific idea. Start with something like, 'tell us about the last time you booked a holiday.' If you don't bias the questions, and you get more insights – you'll get answers to questions you never thought to ask.
2. Research strategy
When you're starting out, the minimum number of people you need to interview is five. You're looking for pattern recognition, so when you hear five people say similar things five times, you know you've found something that warrants your attention.
These insights guide how you design and develop your product or service. Insights that don't occur across all interviews shouldn't be discarded, but should also not be your initial priority.
Make sure you find the right time and place for your interviews. Get permission to make a nice clean audio and video recording in a meeting room. Don't meet in a noisy cafe.
Then get an audio transcript or video to view later – you'll be surprised by what great ideas or insights you missed noting during the interview.
3. Dig into the data
After you've interviewed people, you want to take all that insight back and work out what's going on. Take the big ideas and write them on post-it notes. Stick them on a table, wall, or glass window and think about the themes, patterns and underlying ideas. You're looking for the 'ah-ha' moment when patterns, common themes, and challenges emerge.
You start to develop personas, story lines, and a flow of ideas. What is the customer journey that people are expecting, and how does this sync with your plans? Are you meeting their primary needs? Are we fulfilling their happy path? The happy path being the journey the customer goes on to successfully complete tasks and actions that align with their own needs.
Work in a team to continually validate these ideas. Your initial ideas, suspicions and interview notes might force you to pivot your thinking. You'll have an idea, and then it will go another way. Which is good. It means you haven't wasted time, but you'll build out some of the processes users navigate and then you'll do a prototype, which is your next step.
4. Prototyping
Initially you can work on paper. Just draw the prototype. Take photos of your drawings, load it up into one of the many online tools or apps, and then turn your drawings and sketches into clickable prototypes.
That's your kind of base level, low fidelity prototype.
Then, you build it up, and every time you build a prototype, you test it. So, you would test many times as you go through. Remember that before you head off into product development you want to take your prototype and just do one thing well.
It's way too easy to try and solve every single problem, and very quickly scope creep starts to get in the way. People may just want a bike, but instead of that, you've built them a rocket. And, they don't want a rocket. Once you get to development, it's harder and more costly to change the code than it is to change a prototype. Look to validate your ideas with vastly cheaper pen and paper.
5. Culture matters
CX is becoming more multi-sensory and complex, and one of the toughest emerging challenges culturally inclusive design. Your research and prototypes should be validated through a cultural lens.
Different cultures bring different expectations to the table that impact usability, language, design and interactions. Culturally insensitive mistakes equate to exit points on the customer journey, lost sales, and a negative customer experience.
The approach that we've specialised in here is to recognise the power of empathy. It's a buzzword in augmented or virtual reality, customer experience, and content marketing because everyone is looking for better ways of understanding another person's experiences.
So the focus becomes looking to understand how your design can deliver an easy experience and tap into human emotions. In one example, we worked with HotelsCombined, a hotel price comparison website, to consider the impact of different cultural experiences when designing the user's experience.
The objective of our research was to help the company gain a deeper understanding of user behaviour on its digital channels, their attitudes towards booking travel and their thoughts on the current experience.
We used mobile video technology and face-to-face interviews for its qualitative customer interviews and quantitative surveys of 40 participants in Sydney and South Korea.
The research revealed many fascinating insights. Our Sydney participants placed a lot more emphasis on safety and security than we had considered. Meanwhile those in Seoul were very conscious of what information they shared online and preferred to communicate using KaoKao Talk, as this was perceived to be the most reliable and trustworthy way to engage directly with brands.
From there, we worked with the HotelsCombined team to build a shared understanding of the key issues and specific actions that could be taken based on the research findings.
We didn't end up with the solution we expected, and that's the point. Successful user experience design is a bit like the road less traveled. You didn't see it coming, but it was way more interesting.
Adam's top UX tips
You are not the customer. Find out what your customers really think,
interview people you don't know to avoid confirmation bias,
prototype a minimum viable solution to avoid scope creep,
don't waste your time learning to use new tools – post-it notes, pen and paper are your friends,
discover how different cultures will interact with your design, and
be prepared to pivot based on your research findings.
Adam Faulkner is experience design director at BlueEgg
–
Further reading
–
Image copyright: wavebreakmediamicro / 123RF Stock Photo