Martech news: Salesforce adds support for Instagram; Experian tracks rise of chief data officer; TradeMe's DMP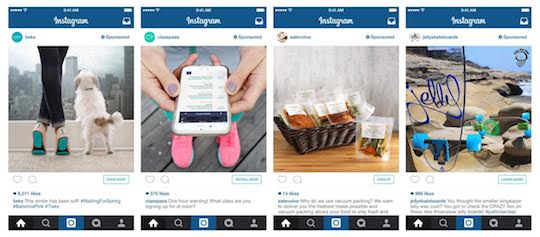 In this week's edition of our new regular wrap of news and announcements from the world of marketing technology… New Zealand online marketplace takes its data management to the next level, Salesforce adds support for Instagram advertising and analytics, Experian report tracks rise of the chief data officer, Integral raises capital, Cadreon and Rocket Fuel sign global deal, and EngageClick is one to watch.
Trade Me partners with Krux on its DMP
New Zealand online marketplace Trade Me will use data management platform (DMP) Krux to enhance customer data segmentation and real-time targeting.
The deal will improve the delivery of customised advertising through a combination of on-site targeting and audience extension off network.
Trade Me advertisers will be able to improve the reach and targeting of their ads, as well as provide personalised content to Trade Me users.
Trade Me is one of the heaviest trafficked websites in New Zealand with more than 800,000 unique daily browsers.
Salesforce Marketing Cloud adds support for Instagram advertising and analytics
Salesforce Marketing Cloud has announced a new integration with Instagram, offering a new set of tools for marketers to engage with customers across its suite of Marketing Cloud products:
Social.com for managing advertising campaigns,
Active Audiences to sync CRM data in Salesforce to optimise advertising, and
Social Studio for publishing, engagement, customer service and analytics.
Instagram launched its advertising offering in 2013, when its global user base was 150 million. By June 2015, that community had grown to over 300 million globally. Brands such as L'Oreal, McDonald's, KLM and Chobani were among the early adopters of Instagram ads.
Experian predicts rise of the chief data officer
Experian Data Quality has released a new research study that finds the value of data has increased so dramatically in the business community that it's bringing about the rise of a new title: the chief data officer.
It's using the acronym 'CDO' which is a bit confusing given that one's only just getting established for chief digital officer, but there's bound to be overlap in those roles anyway, we suppose.
The study, titled 'The Chief Data Officer: Bridging the gap between data and decision-making' interviewed more than 250 CIOs and CDOs from large organisations, finding that data is a critical asset that has been largely untapped up until this point.
95% of CIOs believe data is changing the way their organisation does business, and four out of five see data as a valuable asset that is not being fully exploited within their organisation.
To create that ownership, the role of the CDO is growing in US businesses.
Some other key findings:
63% of organisations without a CDO would like to see the role created in the future,
the creation of the CDO role is being driven by three things: a need for a consistent approach to de-risk data driven projects, growing costs due to poor data quality, and increasing regulations, and
70% of respondents view the CDO as being a 'trusted advisor' of data across the enterprise.
Integral Ad Science raises US$67m
Integral Ad Science, a technology company that quantifies digital media quality, announced it has raised US$27 million in its latest round of funding led by Sapphire Ventures, which also included Cross Creek Advisors as well as Integral's existing investors August Capital, Pelion Venture Partners and Atlas Venture. Additionally, Integral received a debt facility of $40 million from Silicon Valley Bank.
Integral says this increased investment will aid in its ongoing mission of providing the digital advertising industry with innovative technology that delivers actionable intelligence for media buying and selling.
Integral has operated at a profitable level and high growth rate for the last three years, with expectations for strong performance in 2015 and beyond.
Due to the worldwide demand for media quality measurement solutions including viewability, fraud and brand safety, the company doubled staffing in 2014 and anticipates doubling again by the end of 2015. This growth includes new international markets such as office openings in Paris and Tokyo that increased Integral's global presence to 11 offices.
Cadreon and Rocket Fuel global deal 
IPG Mediabrands' trading desk Cadreon, which operates in 68 markets, has signed a deal with Rocket Fuel's programmatic marketing platform to enhance the former's Audience Measurement Platform (AMP).
Rocket Fuel is a programmatic marketing platform provider that uses artificial intelligence at scale to optimise digital ad performance.
The deal will help to further build AMP's audience segments and to analyse audience avails, with offline data match, linking offline data and first-party CRM data with online cookie data.
Offline data will be visible to clients and offer them the ability to programmatically target prospects and customers across owned and paid addressable channels.
One to watch: EngageClick
Conceived in the halls of MIT, Carnegie Mellon, and Berkley, EngageClick claims to have created, "the first multi-screen ad engagement platform that uses machine-learning technologies to create, manage, optimise, and deliver personalised and dynamic interactive ads across mobile, tablet, desktop, digital out-of-home, and smart TVs".
It has now been named a finalist in a competition by tech co-working group TechHub, sponsored by BT, that looks for for emerging companies with innovative services that help organisations enhance and maximise their digital presences.
The EngageClick Consumer Personalisation Platform uses data technologies such machine learning and cognitive science to track customer data in real-time across mobile devices, tablets, desktops, and smart TVs.
Send us your news
In this regular marketing technology wrap we'll be covering things like CRM, DMPs, automation, analytics, content systems, social listening, ecommerce and more, as well as the occasional look-in for major consumer tech media happenings that have implications for marketers like mobile, wearables and other devices that make up the internet of things. (We're still deciding whether ad-tech fits here or in our Monday media wrap, but here might be some overlap while we figure it out.) 
Email [email protected]