'Hey Alexa, tell me about Westpac's new voice banking tool.'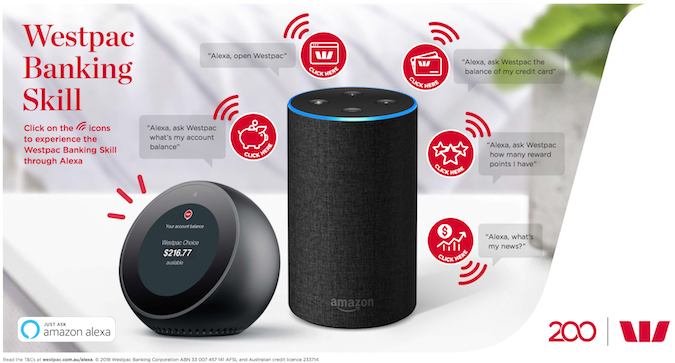 Westpac has announced the release of the Westpac Banking Skill, allowing customers to interact with their finances using the home voice assistant Amazon Echo Spot.
The hotly anticipated Amazon Echo Spot became available in Australia this week, a smaller continuation in Amazon's voice-operated digital home assistant Alexa series. To coincide with the release, Westpac has extended its 'Westpac Banking Skill' to include the Spot, allowing customers to check account balances, recent transactions and reward points using voice commands.
A key difference between the Spot and its predecessor, the Echo, is the inclusion of a screen. "With 85% of Westpac customers who own an Alexa device using it to access their account balances, we wanted to evolve this feature to suit the new digital touch screen," says chief digital and marketing officer at Westpac Group Martine Jager.
Westpac customers with the device can enable up to three accounts for reference via voice commands on the Spot, with added functionality and information displayed on the touchscreen. Interacting with the Banking Skill will simply involve customers calling on their device:
'Hey Alexa, what's my account balance?'
'Hey Alexa, what were my biggest transactions last week?'
'Hey Alexa, how many Westpac reward points do I have?'
For the moment, Banking Skill does not allow customers to manipulate their finances through voice commands. However according to Jager, "It won't be long before we will be enabling banking transactions via voice, letting customers make purchases."
Although digital home assistants have been commercially available in the US for several years, these devices are still new to the Australian market; both Amazon's Alexa series and Apple's Homepod only launched Downunder in February, with the Westpac Banking Skill being one of few functionalities built specifically for Australian consumers.
According to a study conducted by Accenture, almost a quarter (23%) of Australians are projected to own a digital home assistant by the end of 2018; nevertheless, an IAB report from March found that only 13% of media agencies are preparing to engage on this new platform.
"The beauty of voice technology is it's continually evolving and we are learning new things every day. We are seeing a rise of a new ecosystem driven by the customers' choices, tailored and personalised to their needs," concludes Jager.
Further Reading: