Customer disengagement from retail brands hits new heights
A study by IBM has found that retailers face more pressure – but also opportunity – from continued declines in advocacy and brand loyalty.
The '2015 IBM Smarter Consumer Study' suggests consumers have been empowered by the flexibility of online shopping as well as physical shopping, freeing them of the constraints of local shopping and making them willing to switch brands if not given the shopping experience they expect.
Ian Wong, partner, Interactive Experience, at  IBM Australia and New Zealand, told Marketing that the biggest change from last year's study is a big increase in the proportion of customers classed as 'antagonists' – those that actively advocate against brands.
"The advocacy rate is dropping and what we are calling 'disengaged' consumers went from 24% to 37%, so at a top level, that's the most interesting trend we need to address," Wong said.
READ: Marketing's interview with Ian Wong on the findings of the '2015 IBM Smarter Consumer Study' »
Anna McPhee, CEO of industry body Retail Council, said that all signs point to Australians embracing all aspects of digital.
"This presents great opportunities and mounting pressure for retailers to deliver a revolution in the shopping experience, rather than incremental change," McPhee said.
"The convergence of digital and physical retail channels is being driven by consumer desire for more convenience, and it's up to retailers to deliver a seamless service.
"Doing things smarter and faster requires agile thinking and organisations are working to improve mobile, online and in-store fulfilment."
Between February and March 2015 Australian Bureau of Statistics figures showed online sales growth from 2.8% of overall retail sales to 3%.
The survey gathered data from 28,500 online respondents from 15 countries, 1800 of which were Australian.
Researchers also studied previous results from 2011-2014 to identify trends in the data.
Analysis of the results identify four key messages for retailers:
The expectation gap continues to grow,
consumers' affection for online and mobile shopping is still growing,
customers want contextual conversations, and
shoppers want you to help and serve them.
Consumers are willing to spend more however they are less loyal to particular brands.
Australians are buying more goods online than ever before where 94% of respondents said their last non grocery purchase was in store in 2013 and in 2015 only 80% of respondents said their last purchase was in store.
Customers are increasingly comfortable to share location, social media habits, mobile and email information with trusted retailers in order to receive more contextual information in return.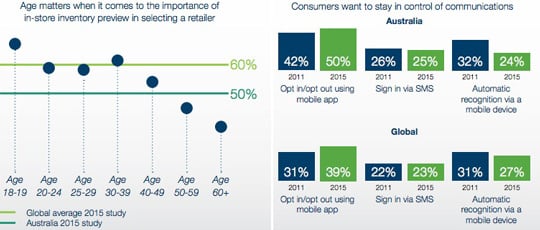 Consumers knowing that retailers have their desired item in stock before going to the shop is of increasing appeal with 57% of Australians saying they would switch to a retailer who has that capability.