Will wearables go the distance?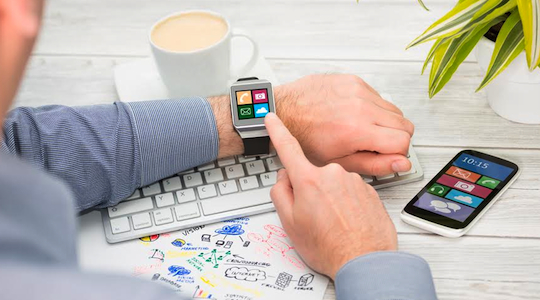 Wearables are here to stay, writes Russ Taufa, as he shares five insights into this new area of technology.
Wearables are hot, hot, hot. But as with any pervasive trend, questions arise as to whether wearables are destined to be a fleeting tech craze or whether they will last the distance and revolutionise the way we live in the future.
As early adopters, Australians clearly have an appetite for wearable devices with the market forecasted to be worth $1 billion by 2018. However, there are several big names competing for a slice of the pie, from the likes of Apple and Google to Samsung and Microsoft. As today's consumers are faced with more choices than ever before, it's never been more crucial to develop marketing strategies in line with customer conversations.
What do consumers want? How much do they want to pay? What drives them to want it? What dissuades them from wanting it? Marketers must be able to answer these questions in order to serve themselves the biggest slice.
So what makes a successful wearable product? SDL tapped into the largest dataset available and analysed hundreds of thousands social media conversations around the world in the lead-up to the launch of four leading wearables; Apple Watch, Google Glass, Microsoft Band and Samsung Gear S. We uncovered five key themes that drive interest and purchase intent, and most importantly, tried to answer the question, 'are wearables here to stay?'
Five key themes were identified surrounding interest and purchase intent:
1. Apps matter
Apps are a major concern for consumers interested in wearables. They're ubiquitous in our daily lives; apps get you places, they entertain you, they keep you organised and they'll even guide you through an apocalypse. With today's consumers hooked to their smart devices like an IV, there are high expectations around the level of a wearables' utility. SDL found 27% of social media conversations were about the apps. Consumers responded well to the availability of apps at the Apple Watch event in late 2014. They were also excited at the premise of Google Glass, with the Play Music app generating significant excitement up until late 2013.
2. Appearances count
By their very nature, wearables are a visible device and blur the line between fashion and technology. Whether they're worn on the wrist, head or elsewhere, consumers want their wearables to encapsulate and communicate their personal sense of style, with 22% of wearables chatter centring on design. Apple has a reputation for being design-centric and this differentiates the brand from its competitors. The company positioned the Apple Watch as a fashion statement, working with its famed chief design officer Sir Jonathan Paul Ive and Vogue Magazine to develop a wearable that would instantly transform customers into trendsetters. What's they key takeaway when it comes to design? Avoid a one-size-fits-all approach and provide a level of customisation that will allow customers to express their individuality.

3. I won't be the 1.0 guinea pig
It's no secret people will go for the smallest, fastest, latest and best available gadget when it comes to technology. Wearable devices are so fresh on the market that most consumers don't exactly know what to make of them. One thing that is for certain is more and more vendors are entering the wearables arena, opening consumers up to a wealth of choice. With a bevy of new wearables hitting the market, customers will shop around for the product that gives the most bang for their buck. Often that means waiting for the release of version two, with 27% of consumers talking about waiting for the next generation.
4. Is price a big deal?
The devices included in SDL's study covered a broad price range, from Samsung Gear S at $449 to Google Glass at $1,589. Surprisingly, price isn't a deciding factor for most early adopters who want a device from their brand of choice regardless of cost. In saying that, value is a big factor for most consumers who want to see return on their investment. The lesson here? If you want to sell at a higher price point, make sure the additional value is visible (and wearable).
5. All-day battery life
Today's consumers want to be connected 24/7 which means wearables' battery-life expectations are high. What use is it if it's off? None of the vendors in the wearable market have managed to address the issue of battery life or find a solution to charging on the go. It appears the key to success in the wearables market is to ensure levels of longevity that will allow users to remain connected at all times.
The wrap
Wearables may only be popular among early adopters and brand loyalists at this point in time, but there is no doubt they are here to stay.  Today's consumers want to be connected 24/7 and you can't really beat wearing your connectivity. Vendors and marketers who listen to what customers want and develop products in line with these insights can claim a fatter piece of the pie and last the distance.
Russ Taufa is director, global insight and analytics at SDL.