Younger women shop more, but older women spend more – study
Younger women may be more frequent shoppers online and in-store, but older women are more likely to spend more, according to a new study from Enhanced Media Metrics Australia (EMMA).
The Retail Trends and Insights report, 'Having It All', revealed discretionary income, time and media preferences all influence the way Australian women shop for clothing, shoes, fashion items and cosmetics.
Women aged 45 to 65 were found to shop less frequently but partake in more leisurely shopping. Older women are more likely to make higher value in-store clothing purchases than the rest of the population. They spend 40% more on clothing in-store than their younger counterparts. The average spend for older women is $180 online and $168 in-store. For younger women, the average spend is $118 and $115 respectively.
Women aged 25 to 35 are seen as 'commando raiders' because they shop more often but in shorter bursts than older women. More than half of younger women said they were time pressed because they had young kids at home.
Younger women are also more frequent shoppers online. Up to 50% of their total fashion spend goes to online retailers. In the past year, one in four younger women bought from an Australian online retailers, while one in ten bought from an international outlet.
The most popular fashion retailers for women are Big W, Kmart, David Jones, Target and Myer. Online retailers ASOS, The Iconic and Net-a-Porter are the most popular.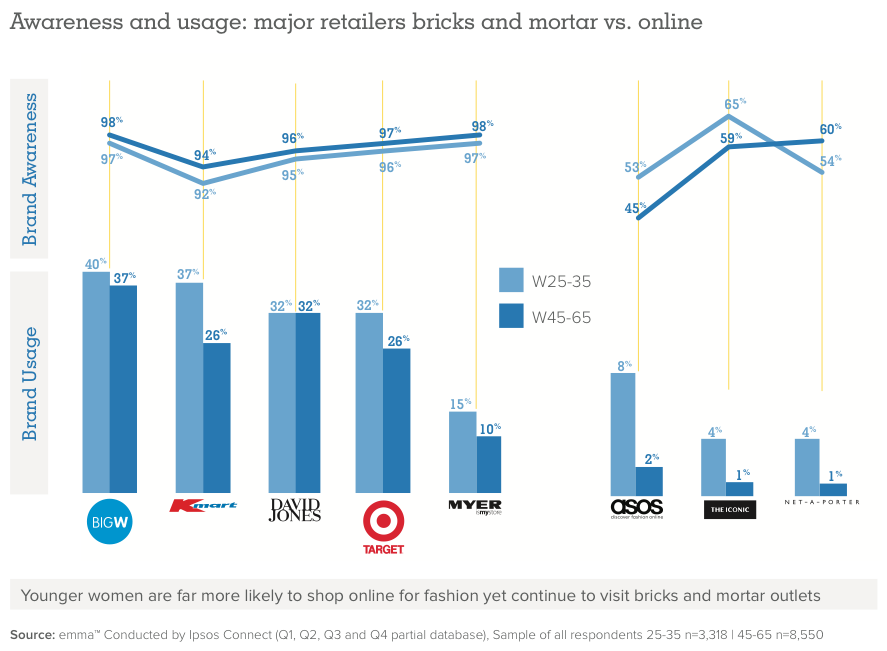 The report found it was common for consumers to buy online after visiting in-store to select size and colour. It was equally as common for consumers to research online before going in-store to try on products, or buy with a better discount or immediate use.
Younger women are more likely to seek information, entertainment and advice 'on the go'. Mobile devices, laptops and large social networks are key influences on the fashion purchases of younger women.
Ipsos MediaCT managing director, Simon Wake, said younger women are "highly receptive to targeted retailer messaging and promotions" due to their hyper-connectivity and love of shopping and its social nature.
Wake said:
"Public space WiFi services will further provide the means to reach consumers at the optimum time. Combined with imaginative use of social media and geo-locational mobile apps, retailers can take advantage of the higher frequency shopping and media habits of young Australian women to engage these consumers wherever they are – in-store, out and about and online."