Agency relationships uncovered at AGDA's Business plus Design event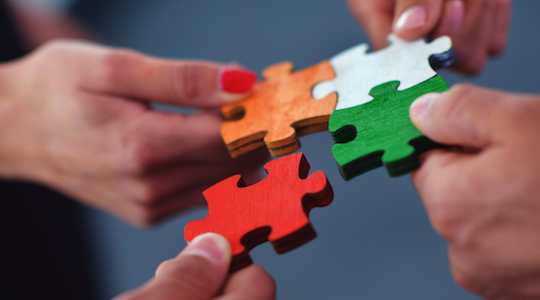 This is a sponsored post from AGDA to promote its upcoming Design Means Business event on 18 August in Melbourne.
In the second instalment of its Design Means Business event series, AGDA is offering a rare insight into the power of creative collaboration by lifting the lid on some of Australia's most successful marketer/agency relationships.
A half-day event taking place at Melbourne's Wheeler Centre, Business + Design will see four marketing representatives from brands, businesses and organisations, take to the stage with their respective design agencies to talk about how professional partnerships and good design can achieve some truly amazing results.
Telling the story of real life projects from both sides of the buyer/supplier spectrum, the marketers will first talk about the challenges their businesses faced and the objectives they wished to achieve through design and communication. In response, the agency will demonstrate how insight, strategy and creativity led to an effective design solution. Finally, together they will prove how business plus design can equal success.
Featuring a diverse selection of marketers and some of Australia's most exciting design and creative agencies, this is a unique, must-see event and a fantastic learning opportunity for anyone with a passion for marketing, communication, strategy or the business side of design.
Speakers
Host: David Trewern
David founded David Trewern Design (now DT) in 1996. Today DT is one of Australia's largest and most awarded digital design agencies with 200 employees across Melbourne, Sydney and Auckland. After nearly 20 years running DT, David changed tack and two years ago set up Republica Education with business partner Ryan Trainor. Republica operates five specialist schools, which include Tractor Design School and BSchool.
Bupa and Milo&Co
Lachlan Hayman, brand and communications strategy manager, Bupa
Rachel Miles, founder and Director of Milo&Co
Melbourne based agency Milo&Co has been working with Bupa to help align the global brand to the local market. The project, currently being implemented across the country, covered a wide variety of communication channels spanning the length and breadth of Bupa's business.
Frank Body and Love + Money
Erika Geraerts, Willow and Blake, makers of Frank Body
Charl Laubscher, director and owner of Melbourne-based digital agency Love + Money
From a humble beginning as a coffee scrub made in a sink, Frank Body has expanded into a world-wide full beauty range in less than two years and currently ships to 141 countries. Unlike an established brand looking to access social media and behave in a way that felt natural to consumers, 'frank' was a brand personality built to live in social and digital media. Garaerts and Laubscher will talk about how close collaboration between brand and agency has built and nurtured this remarkable swell of success.
Royal Children's Hospital and Conduct
Siobhan Greene, senior educational play therapist at Royal Children Hospital
James Cook, creative director at Conduct
The Royal Children's Hospital, Melbourne and Conduct have developed a mobile and tablet application that utilises games, videos, photography and text to prepare children and families for medical imaging scans in a fun and engaging way. The project's success will improve the experience for the users, and heighten the global renown of the RCH.
Molongo Group and Clear Design
James Bichard, property development manager, Molongo Group
Matthew McCarthy, founder of Clear Design
Clear has worked with the Molonglo Group since 2008 with their focus being on the branding and marketing of the NewActon precinct. The precinct has grown rapidly since then, one of the major examples being the Nishi development project, which features 220 sustainable apartments, an 800 seat Palace Electric Cinema, as well as Hotel Hotel, and a number of award winning restaurants, bars and retail amenities.
More information
When: 18 August 2015, 8am-12pm (4x 30 min presentations and 15 min Q&A)
Where: The Wheeler Centre, 176 Little Lonsdale Street, Melbourne
Tickets: $70 members, $120 non-members
Book at www.agdadmb.com.au