Maggie Beer in trouble with ACCC for misleading packaging claiming 'local' products
The ACCC has denounced celebrity chef Maggie Beer for misleading packaging, masquerading her branded products as 'local' to South Australia despite being manufactured elsewhere.
Maggie Beer Products has admitted to the Australian Competition and Consumer Commission (ACCC) that its conduct was likely to have been misleading, in breach of the Australian Consumer Law (ACL).
The complaint followed a local fair at a Woolworths supermarket in Mitcham, South Australia in April 2013 in which the company represented its ice cream and rosemary and verjuice biscuits as 'local' when they were manufactured by third parties in Victoria, not in South Australia.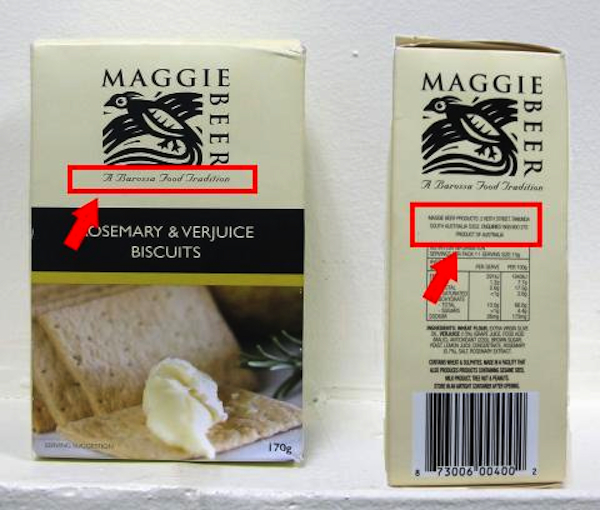 According to the ACCC, since 2011, Maggie Beer branded ice cream, extra virgin olive oil and rosemary and verjuice biscuits, manufactured in Victoria, and its aged red wine vinegar, manufactured in Queensland, have contained the following:
The 'Maggie Beer' logo with the words, "Maggie Beer A Barossa Food Tradition",
the words "Made in Australia" or "Product of Australia, and
the address, "Maggie Beer Products: 2 Keith Street Tanunda South Australia 5352".
"The ACCC considered that as a result of these representations in close proximity on the labels, a reasonable consumer would have gained the overall impression that each of these products was manufactured in Tanunda, the Barossa Valley and/or South Australia, when in fact this was not the case," the ACCC determined.
The company has agreed to to add products' correct place of manufacture to its labelling, as well as publishing an 'educative article' in Food Magazine.
ACCC chairman Rod Sims said protecting the integrity of credence claims made about food products was a priority enforcement area.
"The Barossa Valley is a nationally recognised premium food and wine destination, and businesses in that region use place of origin claims to promote or distinguish their product from others in the market.
"Misleading representations about the origin of products to capitalise on this demand undermines the integrity of credence claims which are relied on by consumers and, equally important, can harm competing producers whose products are made locally."
Another product misrepresentation claim in the family
Maggie Beer's daughter Saskia Beer and her company Barossa Farm Produce was in trouble with the ACCC in June for falsely claiming its 'The Black-Pig' smallgoods were made from heritage black pigs or free range pigs.
The company's product labelling, websites, social media and information disseminated at a cooking class came under fire for the misrepresentations.
The company had claimed on its websites: "we know the origin of every animal that makes its way onto the plate," but it failed to have adequate systems to verify the breeds of the pigs used in its products.
The company undertook to withdraw its misleading statements, publish a correction on its websites and send its directors to trade practices compliance training.
"Barossa Farm Produce made false or misleading claims that Berkshire, Black, or free range pork was used in its Black Pig products, when this was not the case. This had the potential to give Barossa Farm Produce an unfair advantage in the market, as consumers are likely to seek out and pay more for products containing specialised gourmet ingredients," Sims said.