Media News: Yahoo7, catalogues, NewsCorp, radio, sites for over-60s, Stan and Showtime
In Australian media news, Yahoo7 launch a new vertical ad format, catalogues remain King of retail advertising, commercial radio ratings continue to rise, Newscorp announce a new regional publishing division, Nine unveils a new video streaming service, Starts at 60 bucks an online trend, DOLLY has a new editor, Stan partners with CBS, and more.
Drive.com.au launch feature to connect buyers directly to dealers.
Drive.com.au has launched a 'New Cars for Sale' section and dealer enquiry form to their site, in a move that enables car buyers to connect with dealers with greater ease.
The new section not only connects buyers directly with new car dealers, but also closes the loop on the purchasing cycle by guiding new car buyers through the decision making process and transaction.
The upgrades are the first step in a series of planned product enhancements due to be implemented later in the year.
Yahoo7 launch vertical video ad format
Yahoo7 has launched a new vertical video carousel ad format with McDonald's and Telstra. The move, a market first, allows brands to utilise multiple video assets and offers a more native mobile ad placement.
The vertical video ad carousel combines a full screen canvas with scroll interaction, which allows brands' creatives to capture their audiences complete attention.
Yahoo7 commercial director Paul Sigaloff says the concept is an interesting new way for brands and consumers to interact.
"With mobile video consumption continuing to grow, we wanted to harness the power of video and bring it to life with something fresh for the market. We wanted to create a new and interesting way for brands to use video assets and give consumers a better way to interact with it," says Sigaloff.
Catalogues remained retailers choice for Christmas
Catalogue volumes grew by 10% this Christmas, according to new data from full-service marketing.
Salmat chief marketing officer Sarah Pike says the data clearly shows that catalogue was the advertising medium of choice last Christmas.
"Catalogue was the advertising medium of choice this Christmas, with many Australian retailers increasing their investment to capitalise on the expected increase in consumer spending this season," she says.
"A bulk of our catalogue growth came from existing catalogue clients, as they are the ones that know just how cost-effective this channel is for acquiring new customers and converting sales. Catalogue has always been a favourite for Australian retailers and consumers alike, and this new data points to a continuation of this trend," says Pike.
Over60 launches in Australia with MasterCard among first sponsors
A new online lifestyle and news site and community for seniors, Over60, has launched a local website in Australia. Over60 offers news and features covering health, travel, finance, family, pets and entertainment. 
It enters the battle for readers in a growing and affluent demographic. More than 4.6 million Australians are aged over 60 and the cohort is growing at 3.7% annually, faster than the 15-64 age-group.
Over60's main competition here in Australia will be Starts at 60, which hit five million page views per month for the first time in January, and had 1.8 million unique browsers. 
Stan becomes Australia's home of Showtime
Stan and CBS have announced a long-term licensing agreement that will bring all future Showtime series to the Australian streaming service. The deal also provides Stan with an exclusive license to the Showtime brand and trademark.
Stan CEO Mike Sneesby says the deal is the perfect way to round out the streaming company's first year.
"The deal with Showtime rounds out an amazing first year for Stan, with over 1.5 million Australians having used the service across almost 700,000 subscriptions since our launch on Australia Day 2015," says Sneesby.
New look Dolly Magazine appoints editor.
Josephine Rozenberg-Clarke has been appointed to the role of Editor of the new look Dolly Magazine.
The appointment comes off the back of a recent commitment by Bauer, to invest and relaunchDolly, with a focus on digital first content, alongside a new look bi-monthly print product.
Rozenberg-Clarke, who brings more than seven years of editorial experience to the role, says she's a long time fan of the magazine and is excited to begin her new role.
"I have lovedDolly since I was 11 years old and mum finally bought me my very first issue, and I couldn't think of a more exciting time to be taking on the role as Editor," says Rozenberg-Clarke.
Newscorp announce new regional publishing division, appoint general manager
Newcorp Australia have announced the creation of a new regional publishing division to be lead by newly appointed general manager, Nick Trompf.
The new division will house major Newscorp publications, including the Mercury (Hobart), NT News, The Cairns Post, Townsville Bulletin, Gold Coast Bulletin, Geelong Advertiser and associated community publications.
News Corp Australia's managing director of metro and regional publishing Damian Eales says the new division is the perfect way to increase collaboration throughout regional publications.
"By bringing these titles together into a new division, we can increase collaboration across editorial, marketing and advertising sales, delivering more for our readers and making it easier than ever for our commercial partners to engage with this important audience," says Eales.
Nine launches new video streaming service
Nine Entertainment Co. has announced that its new streaming and video on demand service, '9Now,' has gone live.
The service will allow viewers access to all of Channel Nine's content on demand. Nine's other stations, including Gem, Go and Life, will also be available in the coming months.
9Now has launched on web, IOS, Android and HBBTV, with other connected services to follow, including Telstra TV, Apple TV, Chromecast, Sony, Samsung, LG, PlayStation, Xbox and Fetch TV.
Record numbers tune in to commercial radio
The popularity of commercial radio continues to grow, as 2015 saw a record 10.3 million Australians tune in each week in the metropolitan capital cities. A number which was up from 10.1 million in 2014 and 9.7 million in 2013.
The commercial radio listening summary, released by Commercial Radio Australia, indicates a rise in listeners by 1.8% in the past year, and are up by 6.2% over the past two years.
The results also showed commercial radio reached 79% of all people aged 10+ each week, 87% of those aged 10-17 and 78% of those aged 18-24.
Additionally, it was found that home (46%) was the main place of listening, followed by in the car (33%), at work (18%).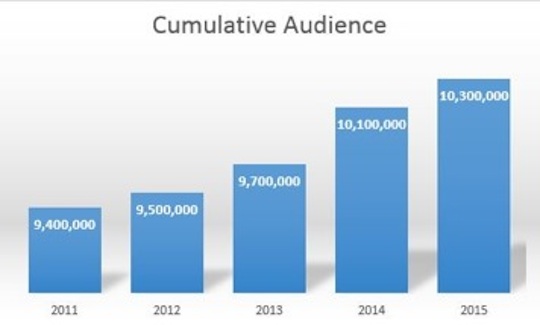 ARN launches new marketing campaign for KIIS Network
Australian Radio Network (ARN) has launched a new marketing campaign for the KIIS Network.
The new campaign, which will feature across all markets, is part of the network's growth strategy and continued investment in brands and talent.
The Sydney campaign, which launched on January 18, saw the station heavily promoted at key train stations, Central and Parramatta, and a powerful presence across the Adshel Rail and Adshel Live Digital networks.
The Melbourne market is taking a different approach, with the main strategy to drive awareness to the entire KIIS 101.1 offering. The coming months will see the campaign step up a gear, with a large digital billboard prominently displayed on Flinders Street, above Young & Jackson marking the starting point.