South Australian pickler debuts packaging innovation as local cucumbers make a comeback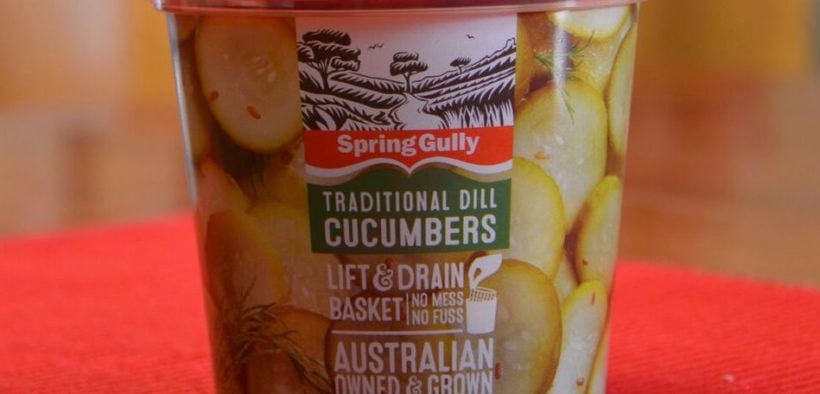 An Adelaide pickler is bringing Australian-grown cucumber back to the pickle jar as part of a new range that features an innovative packaging design.
Adelaide food producer Spring Gully Foods is launching of a new line of Australian-grown produce in an innovative lift-and-drain packaging format.
The new line includes Spring Gully dill cucumbers, along with a range of Australian-grown and processed pickled onions, olives and capsicums and are being distributed nationally through Coles.
Spring Gully claims the new lift-and-drain plastic packaging, in which product sits in a basket within a container, is a first for Australia in this category. The basket can be lifted from the liquid to allow easy product access.
The new range of cucumbers will help revive the retail gherkin market, says Spring Gully's managing director, Kevin Webb. "We last processed Australian gherkins about 25 years ago when they were grown by commercial grape growers in the Adelaide Hills and Barossa Valley as a secondary crop. Since then we have been sourcing them from overseas," he says. "However, we recently signed a multi-year agreement with a large commercial market gardener at Virginia, north of Adelaide and will receive around 300 tonnes of fresh cucumbers this year. This volume is anticipated to increase year on year."
Webb adds that the new lift-and-drain packaging had required some significant re-engineering within the Spring Gully factory at Dry Creek.
Neil Lake, general manager grocery at Coles, says the supermarket is passionate about innovation and supporting Australian businesses to innovate and grow. "We are proud to work with Spring Gully Foods to grow their business and develop new products for our customers to try. Their focus on innovation has led to these new products being the only items packaged in plastic containers in the category, making it easier and more convenient than ever for Australians to enjoy some of their favourites," he says.
"Spring Gully Foods has supplied Coles with great quality products for more than 30 years so it's great to be able to have more Australian grown produce from Spring Gully on our shelves."
The new products follow the launch of a range of Spring Gully fruit flavoured mustards last year. A number of other new products are in the pipeline and are likely to be released in coming months.