Facebook Offers on their way
Simon Dell is director of TwoCents Group and a regular contributor to Marketing magazine. See a list of his blog posts here.
TwoCents were lucky enough to see a glimpse of the new Facebook Offers system that is coming with Facebook business page timelines. There's not a whole lot to report at the moment with the Facebook Offers but you can see from our screen shot, how important they're going to be to businesses of all sizes.
Facebook Offers is 'hidden' in the event/milestone button where you normally post your status updates. Facebook Offers will briefly flash up once when you click on that link for the first time and then vanish.
However, we can reveal that once you create your Facebook Offer on your timeline, your fans can click on 'Get Offer' and receive an email with the Facebook Offer information, entering your chosen email address there and then.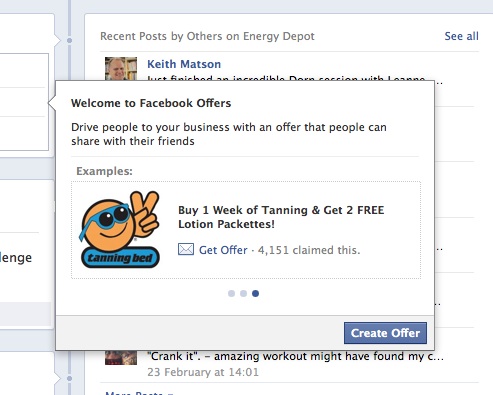 When you see a Facebook Offer on a brand's Timeline or in your News Feed, you can 'Like', 'Comment' on, and 'Share' the post just as you can any other post.
Keep your eyes peeled for more information and details about a roll-out for Facebook Offers. This isn't the first time that we've seen a false dawn for great business tools through Facebook, but hopefully Facebook Offers will turn out to be a better prospect.
 [Ed: Facebook has since released a video via their YouTube channel introducing the Facebook Offers platform.]