Australians are wearing half of what's in their wardrobes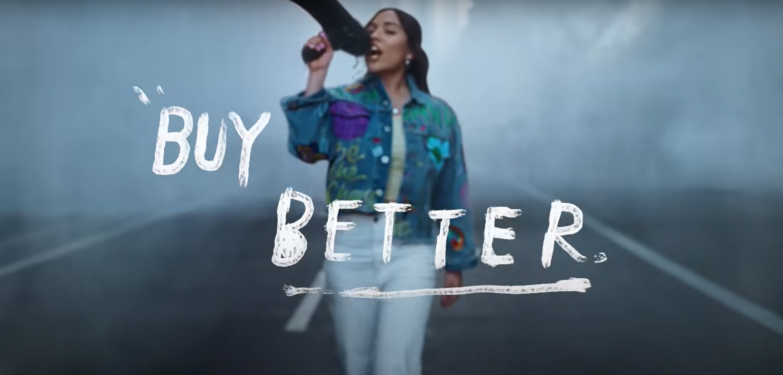 Levi's released its latest research on Australian clothes buying habits. Along with the research, the company launched the 'Buy Better, Wear Longer' campaign.
This campaign represents a global effort to raise awareness about the shared responsibility on the environmental impacts of apparel production and consumption.
The campaign is reminiscent of Patagonia's 2011 efforts, with its 'Don't Buy This Jacket' campaign. Even though this campaign didn't achieve what it set out to achieve it did raise awareness and pave the road to campaigns like Buy Better, Wear Longer.
Jennifer Sey, brand president at Levi Strauss and Co. says, "Ultimately, Levi's denim is meant to be worn for generations, not seasons. We are also using this campaign to encourage consumers to be more intentional about their apparel choices: to wear each item longer, for example, to buy SecondHand, or to use our in-store Tailor Shops to extend the life of their garments."
The Buy Better, Wear Longer campaign will be rolled out on all Levi's platforms globally in an effort to share this message far and wide, and as a reminder that a sustainable future is one where companies and consumers around the world come together to rethink fashion.
As part of the campaign, Levi's will launch a multi-platform global ad campaign featuring names like Jaden Smith, Xiye Bastida, Melati Wijsen, Xiuhtezcatl, Emma Chamberlain and Marcus Rashford MBE.
These are the key findings from Levi's research:
Half of our wardrobes are unused
Close to one in three (30.1 percent) Australians currently own between 50-150 pieces of clothing items. Of all the clothes we own, only 55 percent are being worn regularly.
Of all the new clothes purchased in the past 12 months, more than half acknowledge that about 10 percent is only worn once, or don't end up being worn at all.
Fast Fashion is still on the rise
Globally, it is estimated that more than half of what fast fashion has produced is disposed of in under one year.
Collectively, if we wear our clothes twice as long, we can reduce our environmental impact by 44 percent.
More than half (56.8 percent) of Australians agree that compared to ten years ago, our clothes don't last as long because of poor quality production and fabric. Still, nearly one in two (44.9 percent) Australians agree they will still purchase cheaper clothes despite their shorter lifespan.
A need to stay in fashion
Australians aren't getting long-term use out of their clothes due to the items being out of season and unfashionable, or they are bored of wearing them (45.3 percent).
Globally, 92 million tons of clothes are thrown away every year.
When asked about what they do to the clothes they don't wear anymore, the majority (70.4 percent) of Australians opt for a trip to the local charity bins. More than one in four (28.1 percent) Australians simply leave unwanted clothes in their wardrobe and do nothing.
Denim material and sustainability are the least of our worries
One pair of jeans can use up to 3,781 liters of water in its lifetime.
When purchasing denim, the majority (84.1 percent) of Australians agree finding the right fit and style is the most important factor, followed by the price and value (64.8 percent).
Only a small percentage (8.9 percent) of Australians consider the material of denim a very important factor. Close to two-thirds (65 percent) of respondents think sustainability is the least important when purchasing denim jeans.
The majority (71.1 percent) of surveyed Australians don't know and are unsure of how to properly care for denim.
Clare Press, sustainability expert and founder of The Wardrobe Crisis says, "The first step to solving fashion waste is to reconnect with our clothes. While brands need to do the work to make their products sustainable, Aussies can be part of the solution by buying mindfully. When you buy clothes you've really thought about and love, you are more likely to care for them and wear them longer."
The global fashion industry creates 20 percent of the planet's total water pollution, and 10 percent of humanity's carbon emissions. By 2030 the global clothing and textile industry is expected to use 50 percent more water, emit 63 percent more GHGs and produce 62 percent more waste than it did in 2015. Levi's is a part of the issue and it set out on a mission to change the clothing industry.
The Buy Better, Wear Longer campaign focuses on driving more sustainable production practices with Levi's investment into material and technology innovations such as Cottonized Hemp and Organic Cotton. Through the scaling of Water<Less manufacturing, built on a series of finishing techniques and water recycling guidelines that have saved more than 4 billion litres of water, Levi's is also reducing its own natural resource footprint.
76 percent of all Levi Strauss & Co. products, and 70 percent of all Levi's bottoms and Trucker Jackets, are now made using open-sourced Water<Less technology, resulting in the recycling of nearly 10 billion litres of water. 75 percent of the cotton used comes from more sustainable sources and 65 percent of Levi's products are currently made in factories that run its Worker Well-being programs.