Retail success in a cross-device world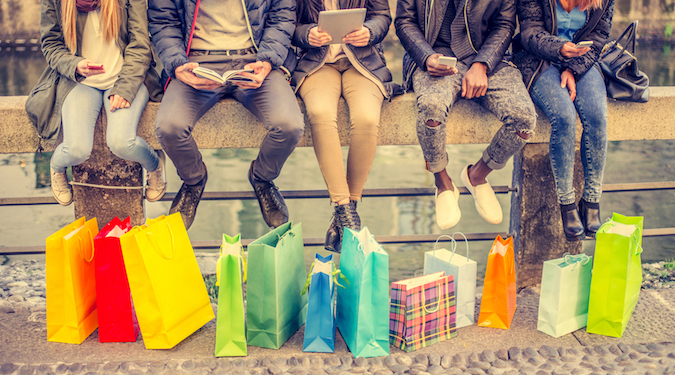 At a recent event hosted by Marketing and AdRoll, a panel of senior marketers from the retail sector spoke about new challenges, opportunities and innovations offered by cross-device communication and engagement with consumers.
Emphasis on mobile and its growing influence over all things, the changing nature of consumer loyalty and how brands must approach this in new ways, attribution headaches as engagement and spend spreads across a growing number of devices and platforms, as well as whether or not there's a future for email marketing were some key points of discussion.
This article was developed in collaboration with Marketing event partner AdRoll to let readers know about the free 'Retail Rising: how retail marketers are meeting the cross-device challenge' breakfast Q&A panel, Sydney, Thursday 25 May.
Mobile
Most marketers in retail brands have begun to think and strategise 'mobile-first'. The consumption of mobile content is growing exponentially, and in the last 18 months, it's skyrocketed for many in areas of mobile engagement and conversions.
Marketers have had to make a point of optimising their mobile sites, testing every day.
For marketers with ageing customer bases, or for those who are lagging behind the trend, it's now time to play catch-up.
"One of our challenges is winning new customers," one said. "We have quite an aged customer base, and our efforts have recently been about trying to bring that age down in our new customers."
Part of this business' growth is to do with new customers engaged on mobile. "The new customer is coming to us online and bringing today's habits to our business."
As for how consumers behave across devices, there is some noticeable difference. "Probably due to them being new customers of a different profile," this marketer says. Consumers using mobiles to engage with the brand are tuning out. "We see high bounce rates because our website is behind, the expectation customers have, especially on mobile, is not being met yet."
Marketers with a mobile friendly offering and mobile-savvy customer base still experience challenges, albeit a different kind. Attribution and data were mentioned. "Data from various areas of a business doesn't always work very well."
One marketer said measuring and reporting on the success of their marketing activities was their greatest challenge of all.
The ability of mobile to enhance customer experience – especially since more customers begin to manage more of their lives and leisure with their smartphones – is a key reason marketers are rushing to fine-tune their mobile offering.
One senior marketer said that "it's got nothing to do with eyeballs or traffic or anything of that nature."
"We're in the business of selling experiences. How can your mobile deliver a better experience? That's the sort of stuff that's changing the business more so than whether mobile or desktop are being treated differently."
Mobile and desktop "should be treated differently."
"They do not serve the same purpose in the customer's mind."
It's pretty clear that mobile is tightly intertwined with the retail experiences of the future, whatever form they may take. Soon, stores will open so that people can build their experiences and tap into a world of content. There's research being done into exploring around how people might want to use apps and mobile in new shopping experiences.
Mobile, however, is not just about shopping and sales for retail brands. There are the social media aspect, the engagement and the customer journey, all of which are now inextricably linked to smartphones.
Loyalty
Customer loyalty means different things in different organisations. One leading marketer working in a sector where they don't enjoy significant return customer traffic defined it as customer experience – because for them loyalty comes in the forms of customers recommending the business to friends off the back of just one experience.
"That's how I measure it; it's not 'how many $10,000 products can this person buy from us?' It's more about the incremental uplift you can see in the customers," they said.
For those working in luxury brands, loyalty means "someone will come in and buy something, and then in five years they'll return and invest in something bigger."
For another marketer, loyalty does mean frequency of visitation. "It's about how often we can get them back, and force an up-sale."
Another marketer broke it into two factors: the business focus – frequency of visitation – and knowledge of customer and customer experience. "Knowing a customer's lifetime value is one thing, then it's about what we do with it and how we differentiate that customer's experience."
"This week we finished several tests in which we released the same discount offer in paid media and through our CRM programme. The CRM programme generated 75% of the sales and the paid advertising formed maybe 20% or 25%. By the time we look at net profit, if you take the cost of media and all those things, you can see the relative returns," they said, demonstrating the tangible value of repeat customers and their data and loyalty.
Another way certain brands view and define customer loyalty is "products per customer."
"You've got to be thinking about that if you've got multiple products because that's where most of the income comes from."
Email
With the prominence of mobile messaging, bots, and social, many are writing email marketing off as finished, or at least on the way out. It does, however still form part of the marketing and loyalty program push of many, many brands.
So how much of a company's marketing mix does email make up?
Programmatic systems have seen it experience somewhat of a revival, but if your content's no good – forget it.
"Content has to be amazing otherwise Gmail filters things into particular folders. Unless you've got content that people care about, they're not going to read it.
"There are studies about how you can become blind to display advertising if it's poorly targeted, and that's why having well targeted display advertising is critical – it's exactly what you're looking for.
"With email, it needs to be even more relevant, because the inbox is seen as being so much more personal."
"Back in the day we used to send out solus eDMs," said one. "If a customer purchased a particular brand from us we'd send them fully branded emails. Now, offers come as an entirely tailored email, completely different to the email that someone else receives because it's based on purchase record and browser behaviour.
"We're making it more relevant – everyone's getting personalised emails as opposed to just mass blasts."
Paired with digital advertising, marketers will extract a statement of customers who opened the email but did not convert and remarket to them, but at the end of the day, there are different types of customers.
"Many customers open their email, have a flick through but don't click because they just want to keep up to date. They think about getting back to it later. Other customers get our email every Wednesday and every Sunday, click through and buy. It's just about adapting to the different types of customer behaviour."
For brands whose primary customer ID is an email address, email still has plenty of use and generating leads made simpler across devices.
"We're lucky that our customer ID is an email address, and our customers need to login to make a purchase. It's probably a lot easier for us because we do have that across all areas of the business," said one senior marketer.
Pairing with content has driven results for some, too. "We've pulled back quite a lot on promotional advertising, such as offering promo codes. We're now a lot more content driven, and that's what's working for us in terms of actually getting revenue.
"It's showing people how to use the products, showing people what difference they are going to see if they try it. They don't want to just see a pretty picture anymore. Likewise, things on our Instagram have changed. It's not just beautiful flat lays; it's showing what the product will do for the customer.
"Our customers are asking for educational content. They're hungry for it. The more we give it to them, the more you see the sales increase."
A statistic in AdRoll's 'State of Performance Marketing' report says overall investment in acquisition has now overtaken investment in retention for brands. This is quite a shift, and marketers are saying it's now easier to retain customers, but perhaps harder to acquire them.
The reason for the change in investment perhaps could be to do with how expensive it is to engage new customers: "acquisition tends to be external, so it's more expensive, whereas, retention tends to be a lot of the cheaper channel stuff. That would be my answer to it," said one senior marketer.
"Once you've got a customer you can use your own platforms of internal tools to retain. You can't do that to acquire a new customer. You have to use prospecting, but it's a lot more expensive."
It was a big part of the marketing operation of all guests in attendance, but the downsides of over-using it are easy to see – falling click-through and unsubscribes.
"The worst thing that you can do is advertise a product to someone who's already bought it.
"Retargeting was badly done in the past by particular advertisers, which overwhelmed people. They didn't use frequency capping and didn't cut out people that had already bought. It was terrible."
Attribution
Like 34% in the 'State of Performance Marketing Report,' many of the marketers on the panel use last-click attribution models. They are aware of its shortcomings, however. So why do they use it?
"It's a lazy way to do it, but easy to automate," said one.
"Better than nothing," was also offered as a reason.
For more detailed attribution, they pair this metric with others to build a better understanding of what's working.
"In a world of multiple measuring points, it's a good reference to gain an indication of deeper performance. Clearly though, as we build our entire ecosystem through social media, eDMs and online marketing, there's a need to better track the customer journey at the second tier of analysis."
Others find cross-product attribution very valuable. One senior retail marketer's team found that advertising smaller products doesn't drive many direct sales, but instead drive sales for larger products. This is through pulling out budgets and running tests of combined program for the two – with the smaller product only running retargeted ads, using a retargeting pool from the larger product.
"We're not there yet," they said, but it's an interesting experiment so far and will form a significant part of their strategy in the next financial year.
End of Financial Year Sales
What about EOFYS, and other discount promotions throughout the year? Are they still an effective part of retailers' advertising and annual offering, or has the fact that 'pretty much everyone seems to be doing it now' removes some of the value – both on the brand and the customer side?
"Rather than a couple of big sales, there's now a flood of sales – you can't get away from it. One of the things that people have now built into their strategies is Black Friday and Cyber Monday. These originated in America and now we're doing it.
"This is a new phenomenon from the last four to five years. It's kind of jumping on the bandwagon.
"There's a downside for retail, you always feel you have to be campaigning on price 100% all year," one marketer said.
For the marketer working with luxury brands, and discounting products can be a double-edged sword: "We have a June sale. It goes for the whole month, but we try not to make it our focus. Now that we've been doing it for about three or four years, people are expecting it."
Still, it encourages the purchase. "It pushes people to buy something that they might hold out for; then it's just a matter of targeting them online."
These topics and more will be discussed at next week's 'Retail Rising: How retail marketers are meeting the cross-device challenge' in Sydney next week on Thursday 25 May.
Click here for info and free registration
Image copyright: oneinchpunch / 123RF Stock Photo