Unilever makes a commitment to locally recycled plastic packaging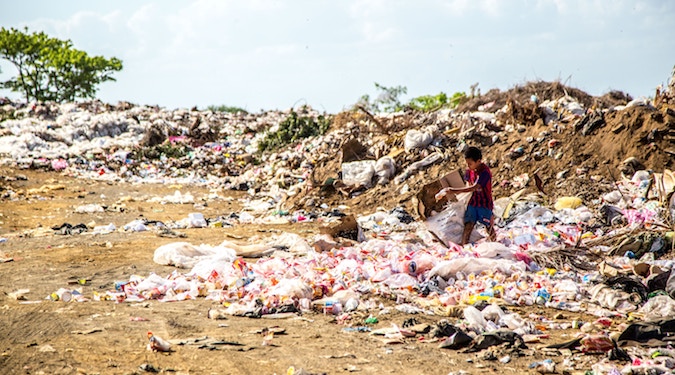 Unilever has announced its goal for at least 25% of its product packaging to contain post-consumer recycled plastic.
Following its environmental platform established last year, Unilever is now taking a stand against plastic waste. The brand is pledging its Omo, Dove, Surf, Sunsilk, and Tresemmé products will be packaged in at least 25% of recycled Australian plastic.
Unilever ANZ CEO Clive Stiff says the company wants to give Australians the confidence that for each bottle they buy, they will be giving a "new lease on life to the plastic they recycle in their yellow bins. In short, this move diverts plastic away from landfill."
According to Unilever, the program will recirculate approximately 750 tonnes of recycled plastic each year – equivalent to to more than 100 million plastic bags. The plastic will come from local council kerbside recycling bins.
"There is more work to do with availability as well as economic and technical feasibility still major barriers in using recycled plastic content across our packaging," continues Stiff.
Unilever says this initiative will make it the first major consumer goods company in Australia to shift its plastic sourcing to locally recycled high-density polyethylene (HDPE) across home and personal care brands.
In 2017 Unilever announced at series of environmental goals; pledging all of its plastic packaging to be reusable and recyclable by 2025, all of its plastic packaging to be at least 25% sourced from recycled materials by 2025, reduce the weight of packaging by one third by 2020 and develop concentrated versions of products to eliminate excess waste.
In June the brand added to its list of environmental goals, sourcing 100% of its manufacturing energy from renewable resources – which Apple achieved earlier this year – by 2020 and becoming carbon positive by 2030.
Stiff concludes by encouraging other brands to join the cause, "As a consumer goods company, we are acutely aware of the consequences of a linear take-make-dispose model and we want to change it.
"We are proud to be taking this step forward, but no business can create a circular economy in isolation. Creating a local market and demand for all types of recycled plastic is critical and heavy lifting is needed from all players involved."
The trend of environmental platforming and the commercial march against plastic is becoming increasingly popular in 2018:
On the topic of brands adopting higher purposes – particularly Lush's brand stance against police infiltration of activists in the '70s – Mark Ritson wrote in Marketing Week, "This current obsession with brand purpose stems, I believe, from marketers that are unhappy with the prospect of selling stuff.
"At some point in the last 10 years it became uncool to take professional pride in making splendid products, satisfying customers and generating significant profits. Marketers wanted to be better than that. Admitting you sell bath bombs and organic soap for a living is not good enough for these people. But working full time on social justice issues like police abuses of power – hey, that's more like it."
Read more of Ritson's thoughts on consumer culture and meaning-based brands.
Image credit: Hermes Rivera